Great British Poker Tour Leeds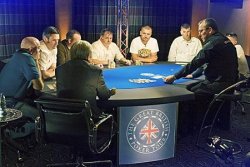 Final Table
So once again I was joining Joe for a Gala Great British Poker Tour event but this time headed north to Leeds. I was able to play the once again sell-out event as Ross was unable to make it. Great news for me, if not for Ross, although unfortunately the last minute change of plans meant I didn't know I had the opportunity to play until I was on my way to the charity evening at Loose Cannon on Thursday evening.
That turned out to be a late one with a very enjoyable cash game running into the early hours (if you can enjoy a game of poker when you lose, you know it's a fun table) and Friday evening saw a reunion with some old friends who I had been out of touch with for far too long. I tried to cancel but ended up meeting up with them at very late instead, with predictable consequences. Another late night and a 2.30pm start in Leeds, with a long drive to get up there beforehand, was not ideal preparation for a tournament with 10,000 chips and an hour clock.
Maintaining concentration at a poker table is never easy for me when I'm wide awake and I knew I was going to have trouble in the later stages of the day. I managed to get around that problem in the end but it wasn't an ideal solution.
At my table were a couple of names I recognized but hadn't played with. Stuart Rutter was on my right and seemed a very genial chap, and one Mrs Kalmar was also listed as being on my table. As expected this turned out to be Kila, wife of Jon Kalmar, also playing, the 5th and highest placed European finished in the WSOP Main Event this year. The most noteworthy thing about my starting table though was the natural sunlight. That's right, not only were there windows but curtains had not been drawn over them! I wasn't the only player at the table for whom seeing daylight in a casino was a first. I hadn't even brought my sunglasses.
In Bournemouth I had watched practically every hand at my table whilst drinking coffee. Here I decided that my already poor preparation wasn't quite enough of a disadvantage and picked up a magazine to read at the table rather than paying attention to the action. When the waitress came around I ordered a beer. I did try and pay attention to what was going on at the table, something made harder by a complete dearth of hands with which to even try and see a cheap flop with. Compared to my starting table in Bournemouth it was not great, there were a couple of definite soft spots but not the totally dead money we all like to be up against.
Stuart was in almost every pot for the first hour and winning most of them, turning over an apparently endless stream of full houses at showdown. I asked him if he was ever bluffing and he claimed he was. That claim might have been the bluff though; I certainly didn't see one shown.
When I finally picked up a hand coming into the second level, pocket jacks in late position, it was Stuart I went up against. Raising from I think the button pre-flop to shake off a few limpers I had position on him on a 7, T, T rainbow flop which he made a decent bet out on. I knew he knew I knew (sorry) the deck had been hitting him in the face and he didn't need to be making moves, so I felt he might be trying it on, and a raise was in order. Raise I did, leaving me with about 7000 chips behind. Stuart called, the turn was a rag and we both checked. Another brick on the river saw Stuart bet out about half the pot. My jacks were still an over-pair, no straight or flush was possible and I was getting 3/1 on my money, my immediate thought was I need to pay this off. Unusually I stopped and considered the action properly and realised Mr. Rutter either held a ten in his hand or exactly 8, 9 for the missed straight draw. I folded and Stuart was kind enough to show me 9, 10 to put my mind at rest, not a +EV move for him but the game was being played in a good spirit. Having avoided making a bad call despite the tempting odds gave me some confidence. I assume I had acquired a reasonably tight image at the table with the poor cards I'd been quickly throwing away, magazine reading and that lay-down. I was able to build my lost chips back up quickly with a couple of bluffs and one very good call of a large river bluff from my opponent.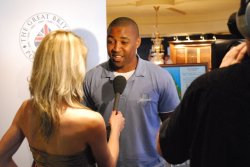 Darren Campbell
By the time the first break came around I was up to about 14,000, picking up a few pots no-one else seemed to want and, if I do say so myself, I was playing very well. Joe had not been running so well and said he wasn't playing great. He was down around 2/3rds of his chips, whilst the top 3 from Bournemouth were all in evidence, Luke Wilson, Grub Smith and winner Pete Singleton having varying degrees of success. Grub wanted me to take a replacement photo of him for the site; we were using one of him pulling a face (in jest) at coming 2nd previously and he didn't like it. For a man who presented Sin Cities I wouldn't have thought him quite so self conscious. Other faces familiar to non-poker fans was snooker player Ken Doherty, ranked 2nd in the world last year, who joined us at the dinner break for another excellent meal in the casino (other UK casino chains please take note!), and Olympic gold medal winner Darren Campbell who took the chip lead into the second day and was apparently unlucky not to do better, set over set effectively ending his tournament in the end.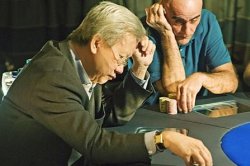 Willie Tann
Willie Tann was another big name in evidence and had formed his own fan club, with a group of northern fellows starting up a chant in support of him on day 1. Returning on day 2 someone had made a recording of their friend chanting in the shower and now had it as their phone's ring tone – by the end of it I'm told Willie was chanting his name himself when putting in a bet!
Back to my tournament anyway, having been moved to Jon Kalmar's table shortly after the break I kept up my concentration for a bit but after one expensive failed bluff set about trying to get the rest of my chips into the middle as quickly as possible, merrily misplaying hands as I went. I was soon able to get up and get the replacement photo of Grub that he wanted, but unfortunately by this stage he was down to the felt himself. I now have another couple of photos of him scowling, only this time for real.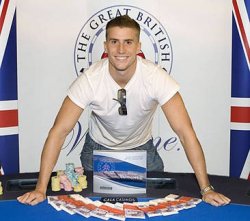 Lee Richardson
As Martin Jol looks set to find out, you can do everything right and things will still go pear shaped for you. That's even truer in poker than in football of course but, as I had amply demonstrated to me here, that's no excuse for doing things wrong and not giving yourself the best chance possible of success. Despite my early exit I still had a very enjoyable weekend, once again Gala's hospitality and facilities were excellent – as the sell-out tournaments are proving there's a great market for well run mid-priced tournaments in the UK. The GBPT Grand Final takes place early November in Avon, for full details and qualification information check www.gbpokertour.com.
In the end the (up until now?) amateur player from Halifax, Lee Richardson [right], took down the tournament. Full results and the official report.