PokerStars Carnival to Feature Billionth Tournament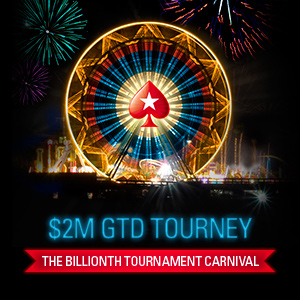 To celebrate Tournament Number One Billion, online poker giant PokerStars has announced dates for the Billionth Tournament Carnival, which is set to take place between November 17 and November 30, 2014.
The Carnival will feature the billionth tournament ever played on PokerStars, the world's largest poker site. That tournament will conclude the Carnival on Sunday, November 30th. The $109 buy-in tournament guarantees a minimum $2,000,000 prize pool.
Team PokerStars Pro was quoted as saying "One billion tournaments is just so sick! I've played thousands of PokerStars tournaments over the years, and I learned so much from them, it definitely was a huge part of my success. After all these years, I'm glad to see there are still huge prize pools and massive turnouts every day of the week on PokerStars. It really is the best place to play poker!"
The PokerStars Billionth Tournament Carnival will also feature "Golden Sit & Go's" where at least $500,000 will be given away. SNG's will be selected at random, and players at those tables will have the opportunity to play for up to 20x of their original buy-in.
The Carnival will also see "Daily Bigs" and Hot "Turbos" touraments' guaranteed prize pools increase for the final week.