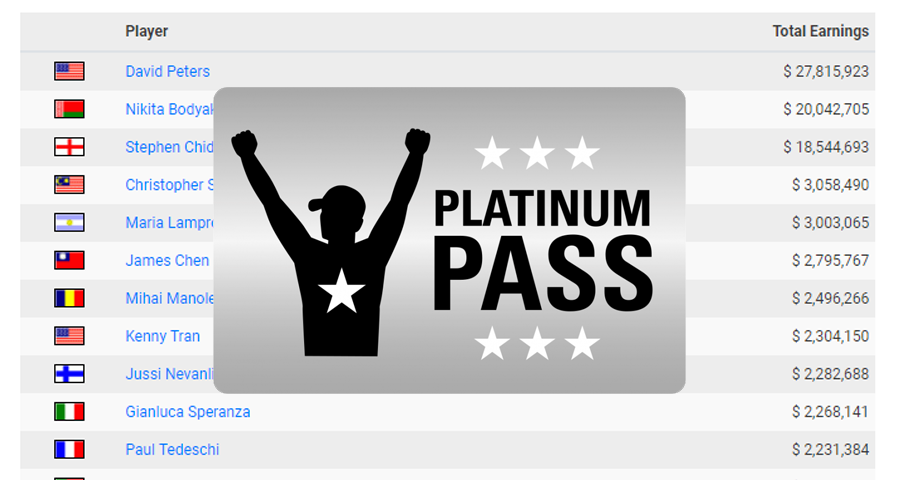 Platinum Pass Winners, Badges & Custom Ranking
Last update: 23rd December 2018
What do David Peters with almost $ 30 million in Total Live Earnings and Martin Pember from England with $ 88 in earnings have in common?
Both are the proud owners of a PokerStars Platinum Pass.
PokerStars Players Championship
In case you've been in hibernation since the start of the year, PokerStars will host the PokerStars Players Championship in the first week of 2019 at the PokerStars Caribbean Adventure in the Bahamas. The PSPC features a buy-in of $25,000 including $1 million added to the winner's share. In order to ensure that the tournament isn't just another high roller in the Bahamas, PokerStars pledged at the outset to send 320 'Platinum Pass' qualifiers to the tournament, to create one of the most hotly anticipated tournaments in recent history.

Platinum Pass Custom Ranking
Of the 320 Platinum Passes that PokerStars will give away in the run-up to the PokerStars Players Championship, 305 have already been dished out. From these 305 players, 196 have a Hendon Mob Profile, and so the THM team thought it prudent to come up with a custom ranking and custom badges on these players profile pages.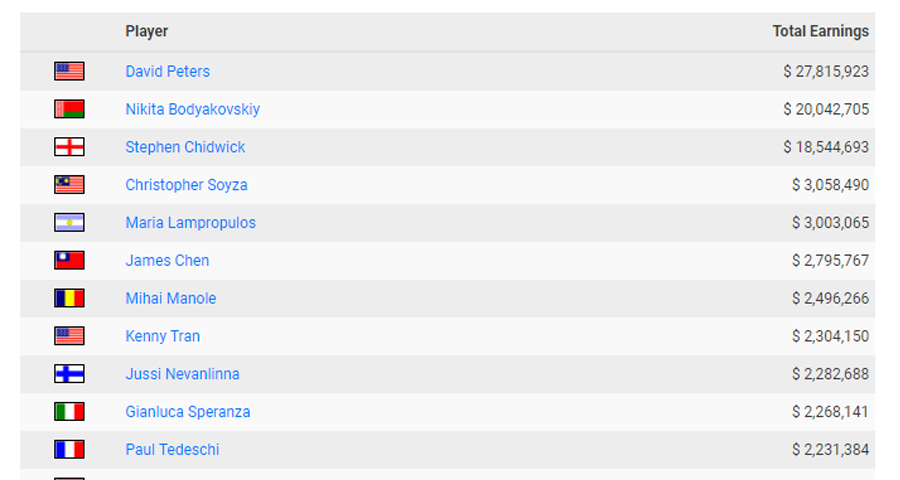 Fun Facts
3 Players have 8 figure Total Live Earnings (David Peters, Nikita Bodyakovskiy & Stephen Chidwick)
24 Players have 7 figure Total Live Earnings
54 Players have less Total Live Earnings than the PSPC Buy-in is ($25,000)
46 Different countries will be represented at the PSPC:
2 Players: Bulgaria, Chile, Estonia, Hungary, India, Malaysia, Netherlands & Switzerland
1 Player: Algeria, Australia, Belarus, Czech Republic, Finland, Greece, Indonesia, Israel, Kazakhstan, Mongolia, Northern Ireland, Norway, Portugal, Scotland, Slovenia, Sweden, Uruguay & Vietnam.
PokerStars Blog – PSPC Class of 2019
The PSPC Class of 2019 article was of great help in creating this ranking and profile achievement badge. Be sure to take a look at it, as they have created some great articles & videos about the Platinum Pass winners.
The custom Platinum Pass ranking & player badges will be updated regularly.

Last Ranking Update: 23rd December 2018