Crazy Swedes and Rolling Seas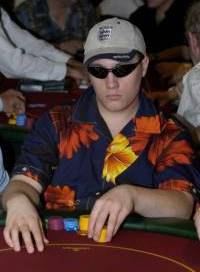 Ladbrokes Cruise Diary 2006
Friday (13th January)
Stay up all night playing internet poker with the intention of adjusting to Miami time immediately. Leave home at 6am to catch a 9.40am flight. Sleep, watch The Constant Gardener and pay envious visits to those in business class. Arrive Miami 2.30 local time and head for Miami Hilton Airport Hotel on a local business park. Drink by pool and speculate on possibility of hurricanes. Go to party in evening and find Devilfish attempting to borrow guitar of Latino singer, buy guitar of Latino singer and finally agree on duet. Sleep.
Saturday
Hang about hotel. Manage to get sunburnt despite force 5 gale and clouds. Discover the usual suspects at the hotel bar then depart for swanky Zenith liner (ZEnith to Americans) and get rooms sorted. Head for South Beach with comedienne Lucy Porter. Drink Pina Coladas, wander round craft fairs and visit art deco bars. Return to liner and depart. Attend cruise party and stumble across friends from deceased Clapham home game. Watch Jesse May's excellent intro and drink champagne. Get very seasick and retire to bed.
Sunday
Rise late to calmer waters. Get accustomed to continual availability of foods of all descriptions 24/7. Weather is great so sunbathe and read 'The Dice Man' by Luke Rhineheart. Play small cash games and win. Observe Donnacha O'Dea and William Thorson playing $50-$100 pot limit Omaha. Talk to Paul Jackson about playing heads up with Phil Ivey in Monte Carlo. Have dinner with Norman and Beverly Pace. Get early night after a disabling curry and failure to adjust to continual availability of foods of all descriptions 24/7.
Monday
Sunbathe and locate gym. Also locate warning inside about likelihood of putting on a pound a day in weight during a cruise. Row. Play tournament. Lose a $5,000 pot all in with aces preflop. Vow not to play another until this one is forgot (so goes the cycle). Have dinner with friends near to the captains table and discover star waiter Oliver, who in turn informs, indulges and insists on bring us one of every desert. Also discover and joke continually about the 'cup of life' worn by all wine waiters to taste the fare, to their total bemusement. Drink BBC cocktails (Baileys, Banana, Coconut). Retire to Rendezvous bar and talk to Tony Holden and Donnacha about taxes, ghosts of the poker world, Diana and Prince Andrew's parentage. Leave Tony in clutches of young female fan and retire.
Tuesday
Dock at Tortola, very happy to reconnect with dry land. Take tour and explore a bit before returning to boat and waiting for cash games to start. Plenty of big Omaha action, but no-one wants to play hold'em it seems. Watch remnants of main event where Skalie is continuing to dominate, mainly due to the classical tournament strategy of putting the chips in behind and getting lucky. Opt for continued break from poker due to inability to download Ladbrokes Poker software and connect to internet on boat. Drink BBCs and chat until sleep becomes a necessity.
Wednesday
Dock in St Johns, Antigua. Get breakfast and head ashore. Wander around rainbow coloured streets built out of concrete and wood. Take taxi to secluded beach and chill out. Repeatedly text people in London with pictures of the scene. Receive message back reading 'Sounds awesome. I'm in a Starbucks in Angel, it's a bit rubbish'. Return to boat, convene in Rendezvous bar and drink BBCs where Mad Marty is holding court with stories such as 'The only time I ever went to jail' and 'The terrible tale of the tennis ball'. Play $10/20 nlh cash game with crazy Swedes. Retire.
Thursday
Rest day from poker due to being docked. Head ashore to St Maarten via the water taxi, wander around shops and up and down paradisiacal beaches. Duck into restaurant and chat to Kevin O'Connell during sudden downpour. Sleep after near poisoning incident at dinner previous night thanks to Roman from Romania and food allergies. Eat dinner served by star waiter Oliver and drink BBCs and refuse deserts. Sit up on deck watching as boat departs and trying to spot satellites. Watch Benny Hill-esque comedian followed by England vs. Scandinavia sit'n'go (both of which descend into farce). Retire as the boat starts to rock noticeably.
Friday/Saturday
A day at sea followed by a brief dock in the private island of Labadee offers the chance of some more live poker with crazy young Scandies and drunken Brits (happy days). A calm $5/$10 nlh game soon becomes a wild $5/$10/$20 game thanks to the joys of straddling, and also frequently a $5/$10/$20/$40 game. Rumours of proceedings reaching a $640 straddle the previous night abound. By comparison the $200 PLO with double rebuys also going seems sedate. To add to the madness some bloke from Eastenders organises a $25 rebuy all in or fold tournament and then invites everyone to the Rainbow Room club afterwards to drink Crystal and hit the dance floors with models Lelani and Jamelia.
Sunday
Final day of cruise but no sun (and no poker as everything has to be packed up for customs. Boo). No matter, as the final kicks off at midday with four Brits outnumbering two Scandies. A few bad beats later and its two Scandies heads up, with the overall winner Norflush being decided in record time. The precedent for the day is set with everyone retiring indoors to the bars. The evening commences with a jouro's dinner organised by PR supremo Dan 'Low Profile' French and then the closing show takes over, with trophy presentations and performances from Elvis Senior, the Devilfish, Lucy Porter, Norman Pace and Roy 'The Rapper' Brindley. The rest of the night remains a mystery, but undoubtedly involved BBCs, the Rainbow Room and Mad Marty's stories.
Monday
Disembarkation commences at the ungodly hour of 6.45am with customs checks. Successfully sleep though the alarm and find an ample queue still waiting at 8.30. Get off the boat and take coach to Bayside mall, where everything is cheaper than in the UK. Shop and take taxi to Miami beach. Make mental note that living in London makes no sense at all. Return to coach and head for airport, arriving 4½ hours early to find there is no designated shopping area. Write reports. Read 'Fools Die' by Mario Puzo. Organize impromptu sitngos in lounge using M and Ms as chips. Board at 9.45pm and fall into a deep sleep. Dream about a great week of sun, fun and poker and the next Ladbrokes Poker cruise…