Poker Database Event Map Added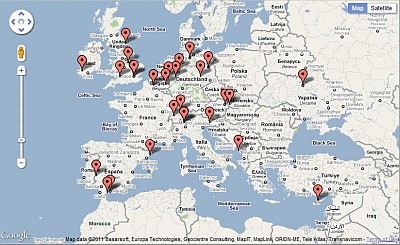 Going to Vegas, or maybe looking for something closer to home? Find out what's going on where you are, using Hendon Mob Database Maps.
Whether you'll be in town for the 2011 WSOP and want to play some smaller events outside of the Rio, or just want to check what's happening closer to home, try out the newest feature in The Hendon Mob Poker Database. Enter where you want to play and how far you're willing to travel, to see a map of all the festivals and other database qualifying events in the area.
Keen to add to your database profile asap? See what's coming up shortly, just enter your city in the location field and click show list, or show map, e.g. in Vegas this week.
The red markers on the Google map show where events are being held, click on them to bring up the exact casino with details of the tournaments. If you want to see what's happening across a whole country or region, select that from the drop down menu rather than entering your location.
For example, to see what database qualifying events are being held in the area during this year's WSOP, you can check for events within 10 miles of Las Vegas during those dates.
If you're in the UK, and Vegas is a bit too far to go this year, find out what you can play without having to suffer airport security:
Note there may still be further festivals to be announced over this period of course.
To zoom in on the map, use the scroll bar on the left hand side, or double click on the area you want to focus on.
You can check for tournaments in any countries or cities that you like. If there's a chance to move yourself up those rankings, don't miss it.
If you've any suggestions for improvements, just email [email protected]. We're always looking to make the database more useful, for the poker press and players alike. If you have a local card room or casino that is not listed in the database, but where poker is played, do let us know. We'll be adding the option to see where you can play cash games and smaller tournaments in the future.