Poker All Time Money List – Invitational and Other Adjustments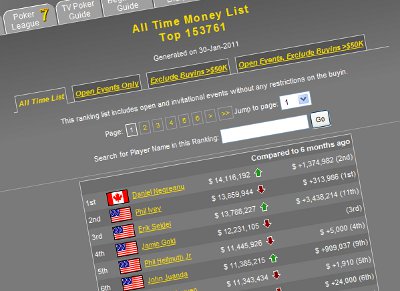 There has been a lot of talk recently about the poker all time money list. The tussle between Daniel Negreanu and Phil Ivey for top spot and the recent large buyin events both at PokerStars Caribbean Adventure (PCA) and the Aussie Millions have been hot topics.
The Hendon Mob database is recognised as the industry leader in live tournament festivals, results and player profiles. It has the most complete set of tournament results anywhere in the world. The 'All Time' ranking list on thehendonmob.com is simply the total of all the results we have recorded, nothing more nothing less. We have considered some kind of arbitrary ranking but that's not really what we are about.
When Daniel Negreanu jumped back into top spot with his 2nd place in the $100,000 PCA high roller we started asking ourselves questions about whether we should make any adjustments. Phil Ivey and Daniel have poker result portfolios to die for but should someone with a short career come along and play a $10million buyin event, perhaps in Macau or somewhere like that, should a new player be entitled to jump straight in at number one?
So perhaps it would make sense to restrict buyins that are excessive or perhaps seen to manipulate our lists.
Some have commented that events such as Poker After Dark (PAD) are like cash games and some have made comparisons to the Elky/Blom heads up event or even golf SKINS events but we see these as they are, cash games, and we do not include PAD cash games at all.
Players playing in PAD are chosen because of their place in the poker world. A top player or big event winner may get chosen but they don't just choose random people. It could be argued that they should be left out of our all time rankings and the argument isn't without merit but we feel that for completeness we should include them and that is the feeling we get at large from the majority of people that use our database.
It gets really difficult with something like the Poker Million which may be invitational with online qualifiers on one online site or even invitational with just one non invited player parachuted into the final. Our task is often a thankless one.
Comments on Wickedchops and on Cardplayer by Daniel himself suggest that a more realistic list might be to include only true open events and exclude invitational events. This would make sense they say because TV shows like Poker After Dark have no place in the money lists, but this is where more problems start. Using this train of thought the Ladies WPT event won by Clonie Gowan is out, as are all the Late Night Pokers, The Poker Lounges, all the Poker Million events except the very first one won by John Duthie. The NBC Heads Up has to go as well as The Premier Poker League and countless tournaments with the word 'invitational' in their title.
So why not give the poker world the best of everything?
From today we will continue to have the All Time Ranking List which includes ALL the results in the Hendon Mob database but we have now added two tick-box options. You are able to exclude any non-open/ invitational events and you are able to exclude all buyins over $50,000. You can also do both. So now there are four all time ranking lists not including our inflation adjusted one.
For purposes of clarity an open event is an event where any member of the public can buy in for cash. This excludes not only many made for TV events like PAD and LNP but also TOC, media events, staff events and the like.
It is interesting to see that Daniel is top of the Hendon Mob 'All Time Money List' being $256,248 in front of Phil Ivey whilst in open events Erik Seidel is top leading Daniel by $160,305! Excluding buyins over $50,000 Erik drops to 11th with Daniel top and Phil in 2nd. In the open events with buyins $50,000 and under Jamie Gold jumps back into 2nd place!
See what people have to say about the Hendon Mob Poker Database in the testimonials page.