New Ranking Lists – What Position Are You?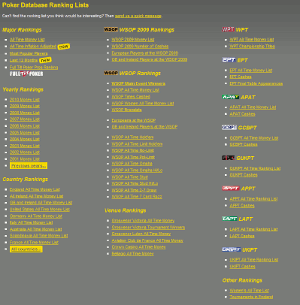 The Hendon Mob Database ranking page has been updated. As well as additional rankings lists for several tours, you can now see where you or your friends are ranked compared to every other player in the database, that's over 125,000 players.
All the ranking lists can be found here.
Search to see where you are in the All-Time List.
The ranking lists for every country has been extended too. Out of over 6,000 English players, guess who's worked his way up to 395th in the England all time list. Of course by tomorrow, this might have changed.
See how you're doing relative to your mates in those prop bets over the year, has anyone leapfrogged you over the Easter break?
We hope you find the new lists interesting. There are about 250 ranking lists for you to check out but if there's anything you'd still like to see added, do let us know.