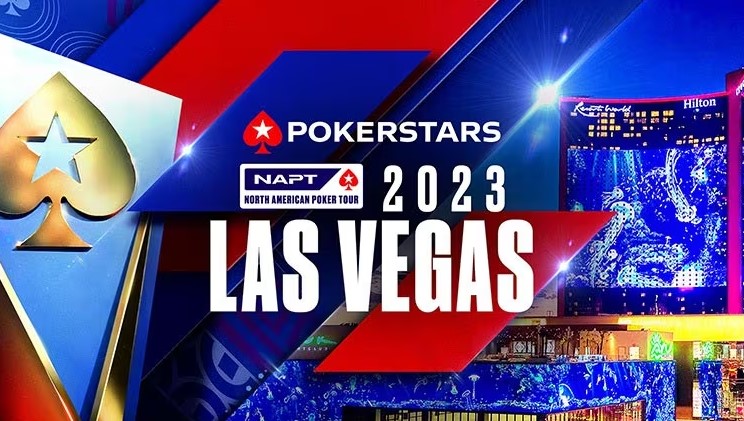 Inside the Numbers – The NAPT is BACK!
After a 10+ year hiatus, the PokerStars North American Poker Tour is BACK, and we here at The Hendon Mob could not be more excited about the return of the NAPT!
NAPT Las Vegas kicks off later this coming weekend as nine days of poker action will be played out on the iconic Las Vegas Strip at Resort World Las Vegas – November 4th to the 12th.
The THM team has gone deep into the stats to bring you the most intriguing historical numbers from the first two years of the North American Poker Tour…
ALL THEY DO IS WIN!
Only nine players have won signature events on the North American Poker Tour – two of those players have won twice – but would you believe it if we told you these two players won the same event, in back-to-back years, at the same venue? Well, believe it as a pair of former GPI #1's did just that!
Jason Mercier, won the NAPT Mohegan Sun Bounty Shootout in April 2010, surviving a star-studded final table that included Sam Stein, Faraz Jaka, Matt Glantz and Shawn Buchanan.
The first-ever #1 ranked player on the GPI would win the same event the very next year in April 2011, outlasting final table participants Eugene Katchalov, Jonathan Jaffee, and Taylor von Kriegenbergh, amongst others.
But just when you thought that feat was incredible, this next one might be as improbable as they come…
One year after winning the NAPT Mohegan Sun Main Event, defeating Mike Beasley heads-up, Vanessa Selbst would outdo Mercier's impressive feat by winning back-to-back Main Events at NAPT Mohegan Sun at a final table that included Dan Shak, Tyler Kenney, Joe Tehan and fellow former GPI #1 Steve O'Dwyer.
Selbst would collect 1.2M with those two wins, her only two cashes in NAPT signature events.
NAPT WINS – SIGNATURE EVENTS
2 – Vanessa Selbst, USA
2 – Jason Mercier, USA
1 – Andrew Chen, CAN
1 – Galen Hall, USA
1 – Joe Tehan, USA
1 – Ashton Griffin, USA
1 – Thomas Marchese, USA
1 – William Reynolds, USA
1 – Harrison Gimbel, USA
ALL ABOUT THE MONEY
Harrison Gimbel and Galen Hall, who both earned signature event victories by winning the PCA in 2010 and 2011 respectively, sit atop the NAPT All-Time Money List.
This PCA win would be then 19-year-old Gimbel's second career score and second career win – his first cash was a Florida State Poker Championship win six months prior to the PCA victory.
For Hall, it was a third tournament score at the time, and his first-ever win – over 10 years later, the NAPT wins remain the biggest live tournament cashes in each of Gimbel's and Hall's careers.
NAPT ALL-TIME MONEY – SIGNATURE EVENTS
$2,300,000 – Galen Hall, USA
$2,200,000 – Harrison Gimbel, USA
$1,800,000 – Christopher Oliver, USA
$1,763,000 – Tyler Reiman, USA
$1,597,306 – Samuel Stein, USA
$1,350,000 – Ionel Anton, ROM
$1,350,000 – Barry Shulman, USA
$1,200,000 – Vanessa Selbst, USA
$1,000,000 – Benjamin Zamani, USA
$836,148 – Thomas Marchese, USA
$811,457 – Jason Mercier, USA
$795,000 – Joe Tehan, USA
TOP 10 TALENT
The aforementioned Mercier added a third Top 10 finish to his pair of NAPT Shootout victories at Mohegan Sun by finishing 7th in the Main Event at NAPT Los Angeles in November 2010, an event won by major event winner Joe Tehan.
Samuel Stein often ran deep in the NAPT, capturing 2nd, 3rd and 4th place finishes in NAPT signature events, including a runner-up finish to Mercier in the Shootout at NAPT Mohegan Sun in 2010.
Third place finisher in the 2010 NAPT Mohegan Sun Shootout, Faraz Jaka, also holds a trio of Top 10 finishes, adding 4th and 5th place NAPT signature event finishes to this Mohegan Sun result.
NAPT TOP 10 – SIGNATURE EVENTS
3 – Jason Mercier, USA
3 – Samuel Stein, USA
3 – Faraz Jaka, USA
2 – Vanessa Selbst, USA
2 – Joe Tehan, USA
2 – Mike Binger, USA
2 – Scott Seiver, USA
2 – James Guinther, USA
2 – Dimitry Stemlak, RUS
NAPT CASHES – SIGNATURE EVENTS
4 – Jason Mercier, USA
4 – Eric Froelich, USA
4 – Faraz Jaka, USA
4 – Mike Binger, USA
3 – James Guinther, USA
3 – Mike Beasley, USA
3 – Greg Debora, CAN
3 – Victor Ramdin, USA
3 – Dan Shak, USA
3 – Olivier Busquet, USA
3 – Jeff Madsen, USA
3 – Samuel Stein, USA
3 – Alex Brenes, CRC
3 – Brian Hawkins, USA
3 – Steven Goosen, CAN
3 – Jonathan Aguiar, POR
NAPT Las Vegas runs from November 4th to the 12th at Resorts World in Las Vegas. The NAPT Main Event kicks off on November 6th with the final table set for November 11th. The festival will also play host to High Roller, Super High Roller, Women's and Seniors events, amongst others…