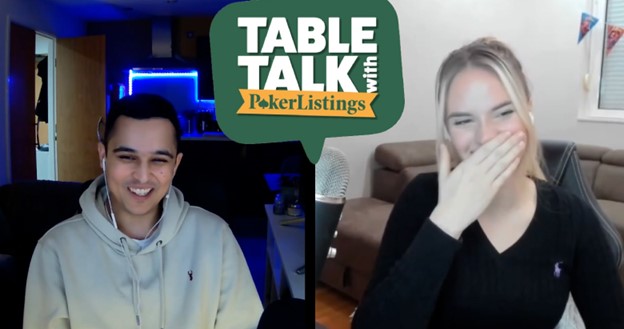 How Do You Become a Top Poker Streamer?
Ever wondered how hard it is to be at the top of the online poker streaming world? PokerListings had guest CallMeLija on their TableTalk podcast to discuss all things GGPoker streaming, becoming a top content creator, and what it takes to become the best.
As well as this, we show you how you can spin a satellite on Juicy Stakes Poker into a $5,200 tournament package in Europe, giving you the high-stakes tournament dream for a small fee. On top of this, we give you an intro to EvenBet and why they are shaking up the poker software industry for the better.
What it Takes to Become an Elite GGPoker Streamer
When it comes to giant online poker streamers or content creators, they do not come bigger than Andrijana "CallMeLija" Gligoric, who has been on a Twitch tear since 2020 to reach the pinnacle of the ecosystem.
What started as an aptitude for social media and some interest in the Serbian cash game scene soon rolled into grinding online poker on Twitch and building a massive audience. Now, CallMeLija has almost 20,000 followers on Twitch, almost 50,000 on Instagram, and nearly 20,000 subscribers on YouTube. These numbers across multiple social media channels are unheard of for a poker content creator.
During the latest PokerListings TableTalk podcast, CallMeLija breaks down her rapid rise in the poker content world, how she creates content from ideation to execution, and what it truly takes to manage to be a winning online poker player and a winning content creator.
For anyone dreaming or aspiring in the world of poker content, this podcast is a must-listen. There are tips and tricks on how to break into the poker streaming space, with so much added value on how you can balance the dream of poker stardom and the grind of winning online.
Listen to the full podcast episode with CallMeLija here.
Win a $5,200 European Poker Package
Ever dreamed of playing in a high-stakes live MTT, playing at a top-class poker venue, and staying in a luxurious hotel? This is the opportunity that high-stakes tournament crushers have on a regular basis, as you might have seen in events like the European Poker Tour or the Triton Poker Series.
A newcomer to the live poker circuit is the Poker EM 2023, being held in Velden, Austria, this year. This European Poker Championship is being held in a beautiful lakeside town. They are now giving away an entire $5,200 package on Juicy Stakes Poker, running regular satellites there to give online poker players a chance to play in a dream spot.
The $5,200 package ensures a seat in the €2,750 buy-in Main Event, which runs from July 26 to 29, a five-night stay in a premier hotel near the casino, and a juicy $500 cash bonus for you to spend in the action cash games or on activities in Velden.
You might wonder where you can get your hands on this exciting European poker adventure. If you head over to Juicy Stakes Poker, you can be in the mix within seconds. Qualifiers can be found under the Poker EM 2023 tab on the JSP client, and you can find multiple ways to fire satellites, with feeders making it accessible for the low-stakes grinders too!
What Makes The Best Online Poker Software?
As more and more online poker rooms pop up, you might think about what makes a poker site successful. Is it the ambassadors they signed? Is it the satellites they run, the rakeback, or the live events? You will quickly find that the biggest reason for online poker success is the poker software.
This is where EventBet has come in. They have become a prime innovator in a space that needs it, allowing poker operators to use secure, safe, and dynamic software that is easy for all poker players to use. They are intelligently based around Bitcoin and blockchain technology, ensuring fair play but also making sure there is a decentralized system in place to avoid a problem like Full Tilt had in 2011.
EvenBet caters to all kinds of poker players, too, creating multiple poker games on their software, including the popular Open Face Chinese, Stud, Razz, PLO, and more. The Game Constructor tool also ensures a personalized poker experience which is wanted by both recreationals players and grinders alike.