Play as Badly as Possible and Get Lucky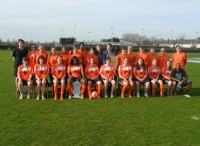 The Ironsides
Last month, Barny, Ram, Joe and Ross left 26 women with smiles on their faces. Sadly, no hot tubs, sex toys or well-thumbed copies of the Kama Sutra were involved, but the occasion was still a happy one for everybody, with the possible exception of divorce lawyers. The Battersea Ladies football team – sponsored by the Hendon Mob – managed to win the Greater London league title.
Sadly, our fortunes soon changed for the worse. The very next week, we tried to change the kick off time of our Cup match against Luton Town Reserves so we could field our best eleven, but the Rules Committee dug up an obscure footnote in the regulations that stopped us doing this. We were forced to play with an under-strength side, and duly got hammered 6-1.
Enraged, I rattled off a few salty emails about "petty officialdom" and "power mad martinets" to the FA, but it was like banging my head against a brick wall. I got angrier and angrier, until – in a moment of clarity – I suddenly realized I was turning into a creature we have all seen around the poker table. The guy who's bitter and twisted because luck isn't on his side. And instead of being stoical and riding the downswing out, he has one drink too many and starts abusing everyone at the table, from the waitress to the dealer. In retaliation for his dwindling stack, he also turns into a sour-mouthed table sheriff, jumping on any minor infraction of the rules by other players, accusing them of string bets and slow-rolls. From a full Matusow meltdown to the antics of the resident idiot at your local club, this is probably the worst thing about poker.
This worried me in particular, as I am soon to make my debut as a Tournament Director. This summer, the Playboy Club is holding a swanky golf and poker day at Stoke Park, the magnificent country club where the golf scenes in "Goldfinger" were shot. I will be in charge of making rulings, with several additional ones – such as "No sir, you may not touch her on the fluffy tail" – to contend with. With no strict unifying set of laws for poker to swot up on, despite the best efforts of the lovely Antony Holden and his IFP, I know I may be forced to make some important, big money decisions on the hoof. I'd welcome any warnings about bad TDing that you can come up with. And also some advice on how to deal with the mouthy morons mentioned above, bearing in mind that I don't know karate.
Incidentally, our Reserves are still in their Cup competition and, despite being 4-2 down to Brentford Reserves after the first leg, have high hopes of winning a trophy. (Hopefully, the engravers at the Ladies Football League will have got their act together by then, so we don't have to make our own cardboard one again for the winners' photo.) Tactically, we will have to play catch-up – or "short stack football" as I explained it to my baffled squad of ladies, few of whom play any card game more complicated than Top Trumps: Lesbian Icons. Essentially, this means that if we still need goals with only ten minutes to go, they should abandon all thoughts of fancy passing and intricate triangles, and simply lump it into the box. As Paul Jackson so insightfully pointed out, "The most profitable way of playing poker in the short term is to play as badly as possible and get lucky." Same with football…
Player profile number 4: Kerri Jones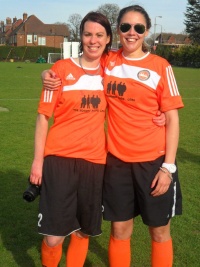 Kerri Jones (left)
Seen on the left of this photo, "Jonesy" is our centre back and captain. Incredibly brave and good in the air, she is let down only by her habit of playing with the sort of hangover that would fell a large-balled Himilayan yak. She is straight, single, and likes men with beards. Gentlemen, start your engines. Or at least turn off your Philishaves…