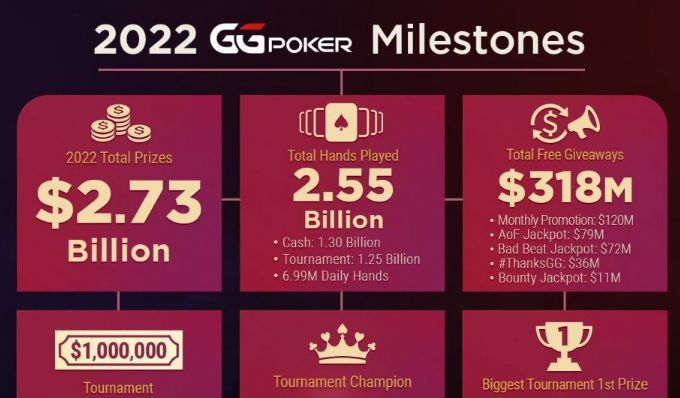 GGPoker Wraps Up 2022 Sharing Key Milestones 
Another year of poker has concluded and it was another year where GGPoker reigned supreme in the online streets. GGPoker has cemented itself as the world's biggest poker room and recently released a graphic showcasing its key milestones from 2022.
Among the most impressive stats that GGPoker highlighted was the total amount of prize money distributed and hands played in 2022. A grand total of $2.73 billion was awarded from cash games and tournament prize pools.
Not far behind the prize money is the volume played on the online giant. Players were dealt 2,550,000,000 hands over the course of the year. 2.55 billion! Of those, 1.3 billion were from cash games and 1.25 billion were in tournaments.
Here's a look at the most prolific milestones on GGPoker in 2022.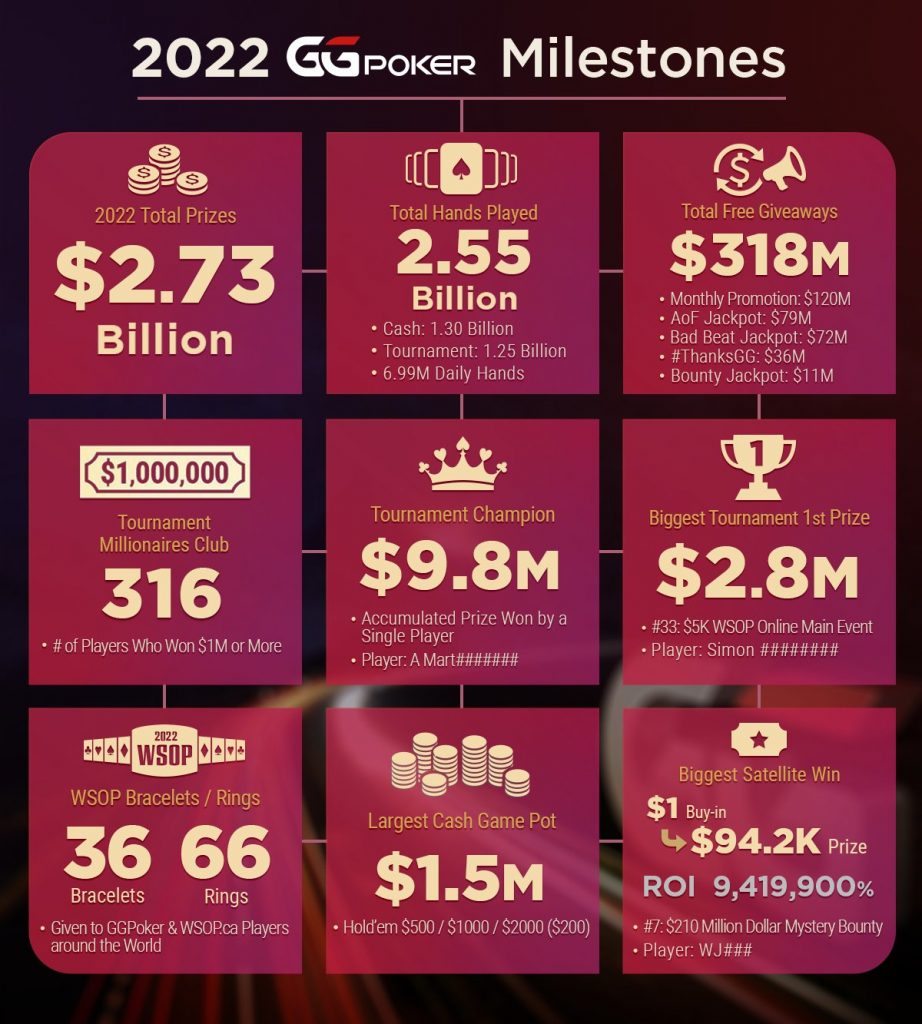 It is a poker player's dream to cross the million-dollar career earnings mark. There were 316 players who accomplished that feat in just 2022 alone. One player almost won 10 times that as $9.8 million was the largest sum accumulated by a single player.
There are many reasons to give GGPoker a shot if you haven't already. They gave $318 million reasons in 2022. From monthly promotions, jackpots, and cash giveaways, a lot of free money is thrown around to the player base.
The SUPER MILLION$ WEEK festival has kicked off and continues until January 16th. A total of $25,000,000 is guaranteed throughout 52 events. Over $500,000 guaranteed per event. Over $1,000,000 guaranteed in seven events. The legendary festival is headlined by the $10,000,000 guaranteed Super MILLION$ Main Event. Click here for full details on SUPER MILLION$ WEEK.