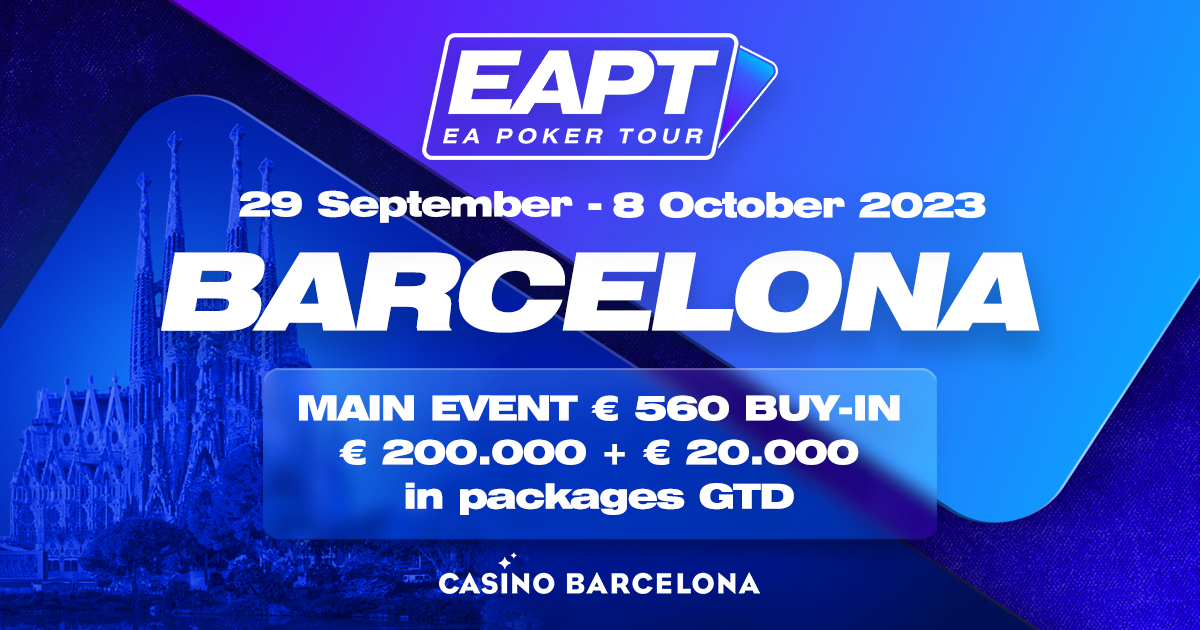 EAPT Makes First Stop in Barcelona With Over €500,000 Guaranteed
At the end of September, the Eurasian Poker Tour (EAPT) visits the fabulous Casino Barcelona. The total guarantee of the series is more than half a million euros and the schedule includes 18 cup tournaments. The EAPT continues its European tour after stops in Rozvadov and Milan. EAPT Barcelona runs from the 29th of September until the 8th of October.
The third EAPT event since the relaunch promises a packed schedule of 18 Cup tournaments and 13 satellites, affordable buy-ins starting from €75 to €1,100 and a solid guarantee of more than €500,000.
Mystery Bounty (September 29-30) // €450 buy-in, €40,000 guarantee
To kick-start the series, players are invited to test their ability to pull "magical" bounties from a "magical" reel. The €450 Mystery Bounty warm-up event will be played in two starting flights. Each flight will be played till players are in the money (ITM).
All surviving players from Days 1A and 1B will advance to Day 2, where the fun begins. There will be as many prize envelopes in the lottery drum as there are players at the tables. However, 10 envelopes will be "magic" envelopes and the prizes in them will be increased.
EAPT Cup (September 30-October 2) // €250 buy-in, €40,000 guarantee
A classic EAPT tournament with a small buy-in and a big guarantee. It's simple, there are no bounties, and the player's goal is to get all of their opponents' chips. There are four starting flights with an initial stack of 200 big blinds. On Days 1A and 1B, levels will increase every half hour, Day 1C every 20 minutes, and Turbo Day 1D will be the last chance to qualify for those who didn't make it early. On Day 1D, the blinds will increase every 15 minutes.
Each of the starting flights will be played till ITM and those who make it to the prizes will advance to Day 2, the final day. Levels will increase every half hour during the final day.
High Roller (October 7-8) // €1,100 buy-in, €40,000 guarantee
The two-day High Roller tournament is for those who want to play a little more expensively. A deep structure with a starting stack of 150BB and long 40-minute levels is a great opportunity to test your poker skills against the best players of EAPT Barcelona.
Main Event (October 5-8) // €560 buy-in, €200,000 guarantee + €20,000 in packages
At EAPT Barcelona, the Main Event takes the largest share of the total guarantee, with a €560 buy-in and €200,000 guaranteed. Players will start with 40,000 chips and like the EAPT Cup, the Main Event will feature four (1A-1D) starting flights. Each will be played till players are ITM.
Levels will increase every 40 minutes on Day 1A-1B, every 20 minutes on Day 1C and every 15 minutes on Day 1D. The number of re-entries is limited; a player can re-enter once per starting flight. Other tournaments in the series have unlimited re-entries.
On Day 2, the blinds will increase every 45 minutes and the field will shrink. At the end of Day 2, 9 players will be left to battle it out on the final day. At the final table of the Main Event, the blinds will be increased not by time, but by hands – every 20 hands.
In addition, the top four finishers in the Main Event will receive a package to the EAPT Grand Final in Cyprus in September 2024. The package includes a buy-in to the Main Event with a multi-million dollar guarantee and accommodation in a five-star hotel.
The EAPT Barcelona will also host two special versions of the Main Event in addition to the "Main" Main Event.
Main Event Bounty (October 4 // €560 buy-in, €25,000 guarantee) – a one-day version of the Main Event with a similar structure but one major difference. For every opponent knocked out, there is an instant €200 bounty.

Mini Main Event (Oct. 7th // €280 buy-in, €20,000 guarantee) – like a regular Main Event, only half the price and with 25-minute levels.
Evening Tournaments
EAPT Barcelona offers players the opportunity to spend the evening playing in a number of quick one-day tournaments. Entry fees for the evening tournaments range from €250 to €450 and the formats are varied as well. There are classic poker events, bounty events, high stack events and turbo events.
Fans of other games can compete in Pot-Limit Omaha, and on the second to last day of the series, players will be treated to one of the funniest formats, All-in or Fold, where, as the name suggests, players only have two choices: All-in or Fold.
Satellites
The EAPT has prepared lots of low buy-in satellites that will award tickets to the series' events – Mystery Bounty, EAPT Cup, Main Event and High Roller. These satellites are available for as little as €75 and can be played on any of the days between September 29th and October 8th.
To view the full schedule for the EAPT Barcelona, visit the festival's official website: eapokertour.com