Holiday + Genting Poker Big Game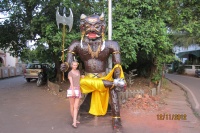 With a devil built for Diwali celebrations
It's my first blog I wrote from abroad. I hope you like it!
I am sitting in the lobby of Marriott resort & spa, facing beautiful views over Indian ocean & thinking I'm running pretty good right now;)
I am on holiday in India and we decided to spend the first 6 days in sunny Goa. We have been enjoying it's beautiful beaches as well as fun preparations for Diwali celebrations; these included local people gathering in front of the paper mache Devils displayed round the region before burning them all at 5am.
Weirdly the music of choice for dancing in front of the devils as tall as 7 metres was not something from Bollywood, but good old house music!
A couple of nights after Diwali we decided to check out the local casinos. Goa has 12 floating casinos which are located on big river boats on the Mandovi river.
Each of them have a shuttle boat which takes you to the main 'casino'. Of course there was no poker, so I had to make do with 3-card poker. The fun is taken away somewhat when you can't bluff your hand….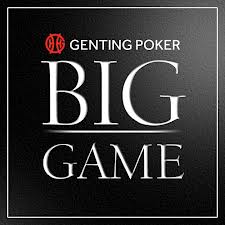 Genting Poker Big Game
This talk of poker segues nicely to just over a couple of weeks ago and my last live poker game. I'd swung by the Fox Club on Monday as they run a qualifier to the Big Game.
The UK's most popular monthly high stakes tournament has recently moved to the Fox Poker Club from its previous home – The Palm Beach Casino in Mayfair.
This one day event can offer a prize of up to £30k for the winner, so well worth trying to get involved! There are £25 qualifiers running on GentingPoker every Wednesday and a monthly £110 live satellite on the day of the Big Game, which I played just before my hols.
There were nearly 4 seats generated for the November game and I was happy to bag one of those with a little money added after a 4 way split of the cash.
I was thinking of earning some extra 'spa cash' for Goa but the Indian Poker Gods can be just as mean as the rest!
There was quality throughout the field as always including Joe Beevers, Jerome Bradpiece, Mickey Petersen and the eventual winner of the November Big Game- Luke Schwartz.
Even the PokerStars crew were in the house, who were following Mickey Petersen in action for a poker documentary. I wonder if I have made TV?;)
Also there was a friendly regular – Paul Seaton – the brains of PokerDeck who was providing all updates on the Big Game. It was a great atmosphere in the club all around and I was feeling comfortable.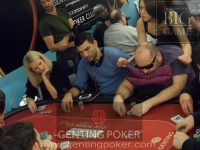 On a feature table
Unfortunately, I didn't have the best start and only a few hands into the game I lost half of my starting stack (18k) with a set versus rivered straight.
I was happy to build back up to over 20k and was focused on continuing to build a stack as only 5 places were paying, so you would need chips and some run good too!
With around 24 players left I was on around 24k when the following hand unfolded- I was on the big blind when the button opened for 3k. I had picked up AQ suited so was planning on coming back over the top.
Before this however, Jerome Bradpiece ( fresh from his fantastic WPT success) in the small blind re-shipped for 30k.
I thought it highly unlikely he is doing this with a monster and knew his range could be pretty wide for a re-ship here. I decided that the worse case scenario it would be a race, or I could be in even better shape, so I made the call.
After the button raiser got out of the way, Jerome flipped over KJ off so I was pretty happy. The flop was a blank and the turn ok too. The river brought a queen, but made the straight with 9,10 on the board already, grrrr!
Genting Poker Big Game
It wasn't to be on this occasion, but I'm very excited about the Big Game coming up on the 3rd of December- it should be a Christmas cracker so to speak.
This is going to be part of the week long Genting Poker Series Grand Final Festival which also includes a £5k High Roller and the £1500 GPS Main Event.
Genting are kindly donating half the registration fees to Great Ormond Street so it is a chance to play in a star studded field and help a worthwhile charity.
If all this wasn't enough to whet your appetite for the Big Game, then the fact there will be a bounty on the head of Gary Oakes (Head of Genting Poker) of a £1,000 package to a leg of the Genting Poker Series 2013 and a luxury Christmas hamper too should help tempt you down;)
It is going to be a fantastic event and I really can't wait to participate in it. Hope to see you there x
About The Event
Monday 3rd December 7pm
· £1000+£80* No Limit Hold'em Freezeout
· 15,000 chips and 30 minute clock
· Hosted at the Fox Poker Club, Shaftesbury Avenue
Satellite will run on Monday 3rd December 3.30pm at the Fox