Hello 2013 – New Year celebrations, Lithuanian TV & DTD 300 Promo
First of all Happy New Year to one and all! I hope you had a fantastic night.
Due to a couple of people being ill & last minute changes in plans, we ended up having a mini house party at our place & seeing in 2013 surrounded by some of my closest friends & family.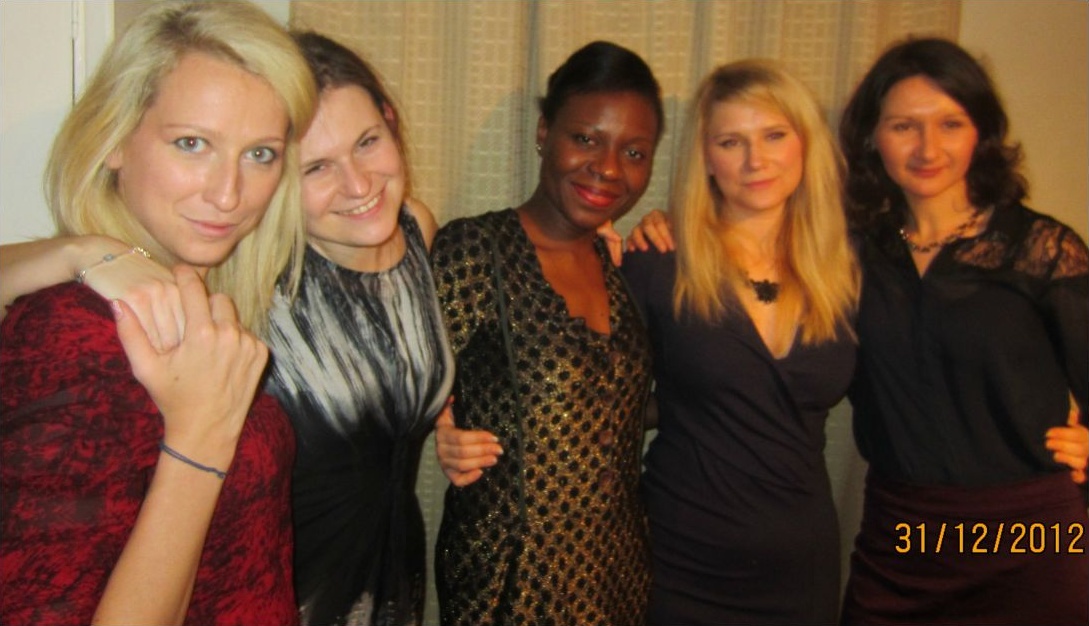 Baltic Blonde with the girls on New Years Eve
Joint efforts combined, it ended being a superb night; my friend Kady was in charge of the best Cosmopolitans in London.
My other half John was chef for the night preparing divine canapes, whilst my other close friend Rada was responsible for dessert & brought over the cutest cupcakes for the guests.
I was in charge of the music, and yes I admit it included Gangnam style;)
The party seemed to be the perfect ending to yet another good year in poker & my life in general 😉
I have been feeling happy, positive & at the same time impatiently looking forward to next year's adventures, starting with the PCA Bahamas!
December 2012 has been an especially great month for me and apart from chopping heads up in the Genting Poker Big Game & winning a Women's PokerStars Caribbean Package (worth $3,200) for $16, I did an interview for the biggest selling lifestyle magazine in Lithuania, called "Panele" and I was also approached & filmed for a Lithuanian TV show. Can it get any better!??
Filming time!
For those of you, who are interested in reading the article; it should be out in the next few days in January's issue and I will provide a link to it as soon as it's available.
Unfortunately, it's going to be in Lithuanian, but my English readers are welcome to view for the pics 😉
I was a little nervous about being filmed for a documentary as this meant having a camera crew following me round London for a day & creating lots of attention as well as being asked lots of random questions by a reporter on the spot & not always being able to come up with a suitable/fun answer!
Another minor problem I experienced, was forgetting some words in Lithuanian & including English terms as a result…not least because some poker words don't even exist in my mother tongue!
The premise for the TV programme is covering success stories and lifestyles of Lithuanian individuals with various talents who are living abroad.
It made me feel a bit sheepish, as I'm not sure I am successful or even as talented as some others they may feature on this show, I am only doing something I enjoy and what makes me happy regardless of what it brings me.
Anyhow, back to poker.
I am starting my live poker adventure of 2013 by heading to Nottingham this Saturday to play the famous DTD 300, which is a £336 buy-in NL Hold'em.
This tournament not only has a 150k guaranteed prize pool but a slow & deep structure too, which I feel is most suitable to my playing style. (30k chips and 40 min clock)
By the way, if you are planning to play DTD 300 and have an active account on www.gentingpoker.com you can win a GPS 2013 Leg 1 seat for free (worth £430).
Requirements:
Have an active account on Genting Poker room.
Come and see me on the day to say hi & to collect the Genting badge to be worn throughout.
Simply be the longest lasting Genting Poker player left in the tournament!
Then, there is the Genting Poker Big Game on 7th January at the Cromwell Mint Casino, which will have a whooping £6,000 added to the Prizepool!
Just like the last month, I'll be down for the satellite on the day at 4pm first. (£110+10 turbo freezeout, 6k stack, 15 min clock)
And then, I'll be off to the Caribbean on Wednesday to play in my first PCA event ever! Bring on the Bahamas, for once getting knocked out of a tournament won't be that bad!