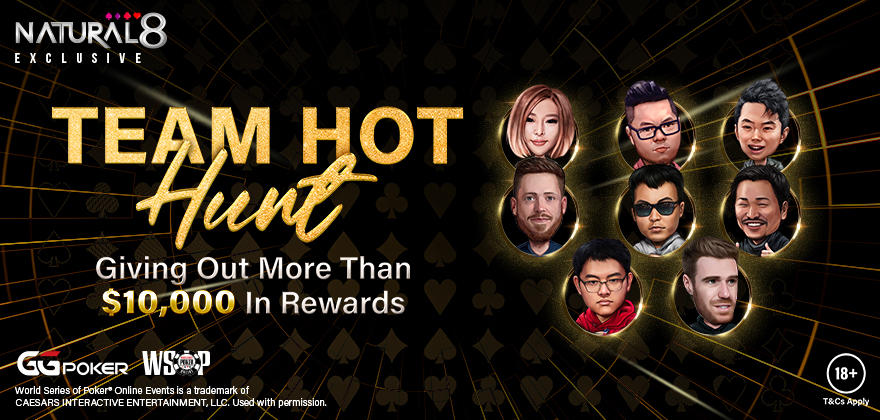 Attractive Promotions for Natural8 Players This WSOP
The World Series of Poker (WSOP) Online is finally back on Natural8! This year, the WSOP Online series will run from 14th August until 27th September 2022 and feature 33 numbered events that comes with 33 WSOP Online bracelets. In addition to the numbered events, there will be plenty of side events as well.
Highlighted Events
$5,000 WSOP Online Main Event
$210 Mystery Bounty Event
$500 Housewarming Opening Event
$1,111 Every 1 for War Relief
$10,000 Heads Up NLHE Championship
$1,500 Millionaire Maker Event
Among the highlighted events, there are a few exciting events that are worth paying extra attention to. One of such events is the annual $5,000 WSOP Main Event Online that comes with $20,000,000 in guarantees and the $210 Mystery Bounty Event that comes with $10,000,000 in guarantees and a $1,000,000 guaranteed highest bounty. In Mystery Bounty, the bounties are given out at random, so the first player who knocks out another player can win the $1 Million bounty!
Another event to look out for is the $1,500 Millionaire Maker Event with $5,000,000 GTD. As per its name, the winner of the event will get a guaranteed $1,000,000.
GG-WSOP $1,000,000 Gift Box
As you play in the WSOP events, you also stand a chance to win something extra. All you have to do is play in any Natural8 or WSOP tournaments, win, and collect points. The top 1,500 players on the Daily $22,000 Gift Box Leaderboard will win Gift Boxes that are worth up to $100.
GGTeam Champions
The winner of the WSOP Online Main Event will be allocated a seat on Team Champions, which comes with extra benefits.
Benefits
Custom Avatar
GGPlatinum Fish Buffet Status
Team Champions Badge
Unique Affiliate Code
Tournament Entry Package
Natural8 Exclusive Promotions
All Natural8 players will also be eligible for the Natural8 exclusive promotions, which are worth an additional $350,000 in prizes.
Team Hot Hunt
When you play in any WSOP Online events, make sure you keep an eye out for any Team Hot members that may appear on your table for you may stand a chance to win one or both of our special Natural8-exclusive promotions.
Take a screenshot whenever you spot any one, or more, of our Team Hot members at a WSOP table and post it on any of your social media accounts to win a T$25 bonus. Limited redemption available.
When you are on the same table as any of the Team Hot members, do your best to knock them out to get T$88 bounty! For each Team Hot member that you knock out, you will receive a T$88 bounty, and there is no limit as to how many times you can get this bounty. To make the game even more interesting, the player who knocks out our special ambassador Adrian Attenborough will receive a special T$188 bounty.
Team Bling
Natural8 players who win any of the 33 bracelet events will also win sponsorships worth up to $100,000 as well as be a part of Team Bling! There is no limit as to how many Team Bling sponsorships you can win, so the more you win, the more sponsorships you can get.
For more information about the Natural8 exclusive promotions, as well as how to claim them, please click here.
About Natural8
Natural8 is Asia's largest online poker room and geared towards recreational players. A skin on the reputable GGPoker Network, Natural8 is fully licensed and authorised. Anyone can join for free, and there are no hidden fees. On top of the $120 million guaranteed prize pool for tournaments every month, Natural8 also offers players extra incentives in the form of monthly promotions and cashback programs.
There are plenty of promotions available for players new to Natural8, including the $8 Instant Deposit Bonus (with a minimum deposit of $10) as well as the First Deposit Bonus – where players can choose between a 200% match bonus (up to $1,000) or $100 in instant rewards. New user specials on Natural8 amount to a total of $1,608 – easily one of the best in the online poker scene.