The Next Phase of TheHendonMob.com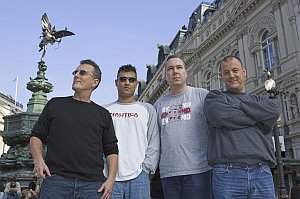 Here it is: The next phase of the hendonmob.com. We've been rummaging through the drawers, checking sell-by dates dusting the shelves, sanding, filling and applying a lick of paint.
You told us the site was harder to navigate than a tanker in a tea-cup and opened more windows than a cat-burglar at Christmas. We listened. You said the forum needed revamping and that, much as you might like our tips and diaries, you'd like to hear more from other voices too. Well O.K. then. Some of you said that the site just didn't look right anymore and that it was cluttered with old stuff you no longer looked at. Alright, alright we get the picture.
So, here it is. Take a look around and tell us what you think. You'll notice more changes and features in the months ahead. We will no longer be simply updating on a monthly basis. There is likely to be something new here almost every time you look. Joining our regular writers will be more of the cleverest and funniest on the poker scene; starting with Neil 'Bad Beat' Channing whose exclusive Bellagio diaries will be serialised here this month.
We have joined forces with the world's most respected tournament directors – and Mad Marty Wilson – to bring you a great new feature: 'You are the tournament director'. We will be posing them some tricky questions and we think you will be intrigued by what they have to say. You may also get your chance to pose them some questions of your own.
We think you'll like 'PokerMob' our new one-stop shop for everything poker related on your mobile phone: ring tones, tips, games and poker player wallpapers. Now you'll be able to get Isabelle Mercier on the phone whenever you want!
We are continuing to update and improve our world famous poker database and as you can see, will be featuring different ranking lists on the front page.
The old favorites are still here. You can still use My Poker Diary to record and analyse your poker stats and the poker calculator is there to check you are making the right plays. We will continue to make one of you 'Mobster of the month' and our popular competitions will be better than ever. For new players there is our interactive beginners guides, and all the pro tips can still be found in 'Features and articles' alongside the best from our archives such as Jesse May's diaries, and the TV form guides.
There is a great new feature on the forum which allows you to send personal messages to other forum users. If you haven't already registered on our forum, please do so now and let us know what you think of the site. Give it to us straight – but give it to us.