Lucky Snowmen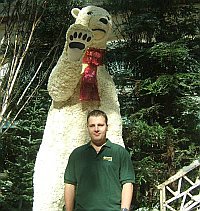 After the rather fortunate feat that the snowmen pulled off to crack aces and send me on my way to Vegas, it would have been somewhat poetic (as well as festive) for them to propel me to a seat in Five Diamonds Classic main event. But I won't get ahead of myself.
Friday was Joe's birthday so as we checked in we all arranged to meet later on for dinner followed by a few drinks in the nightclub Light. Two out of five of us managing to set our wake up calls and re emerge would probably not have been a bad bet and so it transpired that Joe and I would be leading the celebrations. We also met up with a couple of guys from Matchroom in the sports bar who then joined us for the long haul.
Having been led to our table in Light we attempted to order a couple of beers and gin and tonics. We were then politely advised that we must order a minimum of two bottles from their menu at the bargain price of $375 each. While still trying to get my head round those numbers Joe ordered a bottle of vodka and two bottles of champagne. That's one way to get over jetlag.
Several hours and several hundred times over the limit later the -ev decision to hit the casino tables was made. Somewhere around this point we also managed to swap the Matchroom lads for Neil Channing and Paul Zimbler. I think we got conned. Pai Gow was the game of choice but I was not in a fit state to look at so many cards at once and wandered off to the poker room. I landed in a 4-8 limit game and managed to last all of two hands before being asked to leave. The fun-loving, gregarious bunch of locals that I encountered on my table failed to grasp the profit potential of the horribly drunk, young English guy and so had me ejected for telling them my cards. Go figure.
The short session was probably a good thing as it allowed me to get some rest before the super satellite at 1pm on Saturday. I was determined to play as though it was a $10 online tourno and not turn into a rock because it was the biggest buy-in event I had ever landed myself in. I did not disappoint myself and my chips were often in the middle while my stack wavered in height many times but never really strayed too far from the starting 3000. Until I found the snowmen.
The serial raiser on the table was up to his old tricks from early position and so I figured it was the perfect person to put to the test with the perfect hand. Considering it was the first time I had stuck the lot of them in I thought he might have had the decency to wait longer than about half a second before calling with AK. The ace fell and I was down to 325. I briefly considered hanging in for a big hand here but fortunately the internet game took over and I pushed all in 6 hands in a row gaining blinds and antes as well as a couple of double ups and back well over the starting chips.
The break was now upon us and so I sat with Ross at the bar (he was playing too) for a much needed agua injection. I considered offering him a small last longer wager until I found out he had over 12k. I'm not sure why I have a job really, I'm so good at sniffing out the value.
After the break I continued to put on a decent show and was picking up a couple of pots each round to keep me going nicely until the big hand occurred. A scary looking oriental chap had just knocked me off a big hand (T5 I think) with a preflop reraise when I found QQ and made the same bet again. An extremely pretty young lady from Sweden stuck the rest in with JJ which I called only to find a distinctly less pretty jack on the flop. No rescue on the last couple of cards and reevio exited stage right.
At around this point my hangover decided to kick in to compound my misery and the rest of the day, as well as most of Sunday, were spend either sleeping or tilting on the blackjack tables. I finally dragged myself back to the poker room on Monday when the Mob started the main event and I met up with "mrmoss" from the Mob League and a couple of his mates. We played a few tournos over the next few days and some cash too but my heart wasn't really in it and so I was probably lucky to lose less than I spent on my Christmas shopping.
I finally returned to England on Thursday for the birthday of my lovely girlfriend Jo. It was a great week and a great experience staying and playing at the Bellagio in such a big event. Of course it was disappointing not to make it to the WPT event proper but I gave it my best shot and was happy with how I played it. Thank you to the Mob and Stan James for the opportunity and congratulations to Barny on his result in the main event. May you all have a prosperous 2006.
Reevio.