Winter is over (Sorry offer valid to SoCal + Vegas residents) and tournament players have returned like swallows to Las Vegas. What may be tough to swallow is the new tax law that goes into effect March 4th. Any win of $5k or more has to be reported to the IRS. I wonder if the IRS will use the Hendon Mob database during investigations? My first assignment of the year was to photograph the NBC Heads Up red carpet. On my way past the Gold Coast I noticed a road closure and a situation at the Extended Stay suites just across Flamingo. This turned out to be much more than the usual prostitution/drugs bust. It was the discovery of ricin in one of the rooms. This was where the CardPlayer tournament staff and writer Michael Craig stayed during the WSOP.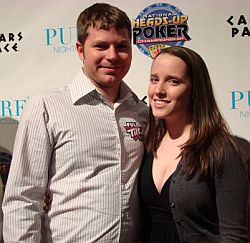 Jon Little (left)
Onto Caesars where winner Chris Ferguson and surprise of the tournie Orel Hershisher both bypassed the red carpet. Also missing Phil Ivey and Hellmuth who were playing at the Los Angeles Poker Classic final at the Commerce. This was to be Jon Little's final appearance as a Full Tilt pro as the site dropped him yesterday as it appeared his account was being played by someone other than FieryJustice during the NBC event. This was a very short relationship as he was only signed in November.
Highlight of my night was the kiss I received from Mia Antonius. I used to photograph her on the rail with Jean Gluck before she teamed up with Patrik to create a Super Race. I am not sure if the Camel (Keith Hawkins) has made any red carpet appearances but he used his Red card to play an event at the Wynn Classic last week. Keith was loving the perfect weather saying his previous visits have been in the heat of the summer or the chill of December.
In music news the Bay City Rollers (v2008) are playing for three weeks at the run down Riviera casino. The band are almost certainly "four walling" which means they pay the Riviera to use the room but keep the revenue from any ticket sales. At $60 a time I think they could have problems. The Palms should have no problems selling tickets to the Verve which is on April 26th. This will be Wigan's finest first visit to Sin City and one of only two US dates.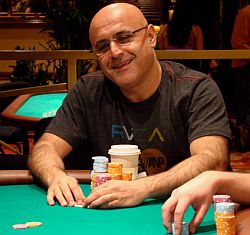 Ali Sarkeshik
We had our first Brit at a Wynn 08 final table when Eileen Kelly, originally from Burnley but living in Jersey now (thats as good as my transfer from Bolton to Vegas) made a brief appearance before finishing ninth in the $1500. The much more experienced Ali Sarkeshik finished second in the $2k, which was worth $48.5k.
Sad news. Barron, who worked for Gutshot at Foxwoods and the WSOP, has died at his home in Conn. Probably one of the best poker writers at the series he was only 34.