Who is the Sexiest Poker Player?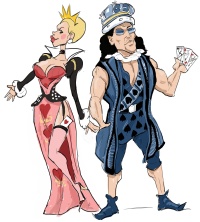 Launch of new website – sexiestpokerplayer.com
Today sees the launch of a new website that should for once and all decide on who is the sexiest poker player, both male and female.
There have been countless opinions and articles on this subject. In October 2010 Shannon Elizabeth topped a Bluff Europe Poll.
Gambling911 were fans of Tatjana Pasalic in 2010.
In May 2010 the Bleachreport had some great pictures and had Tina Wallman at the top of their list.
More recently in November 2011 Kimberley Lansing found herself a short head in front of the UK's own Liv Boeree here.
Now the most important people get to really decide – YOU!
Vote now on sexiestpokerplayer.com!
Enquiries: support@sexiestpokerplayer.com