16/03/2012
The girls of Battersea Ironsides Women's FC are on a heater. Our Third team won their league a fortnight ago, and this week, thanks to Brentford Reserves dropping two points away, our own Reserves secured their league title without kicking a ball. Now it's all down to the First team to secure a memorable treble.
With luck like this, I'd say we'd been "living right", but then again I've seen the ladies on a night out. After a few hours supping lagers in the pub, they tend to stagger off to a gay club, where they handicap their natural dancing ability by swallowing near lethal dosages of vodka, brandy and Jagermeister. Seduction or nausea occurs on the pavements of Soho around 2am, and it's a rare occasion when nobody vomits in a taxi on the way home, or wakes up the next morning with strange bite marks and their thong on backwards.
I suppose that learning just how badly a pack of women can behave has been part of this adventure for me. When I started out, I'll admit I thought the gentler sex would play a gentler style of football. But it didn't take long to find out how mistaken I was. At an early trial for new players near a Wandsworth housing estate, I was teaching a talented 19 year old how to do a Cruyff turn when I became aware of someone running towards us. It was her girlfriend, and she was clutching the player's mobile phone. She'd obviously been spying through the text messages, because the words, "Who the fuck is Shakira?" arrived at the same time as a vicious right hook to the player's chin. She was out before she hit the ground.
There is also some psycho behaviour during games. In a league match last year, an opponent got sent off after a fracas with Toney-Ann, our most "ghetto fabulous" player (now signed to Crystal Palace: think the attitude of Mario Balotelli and the lifestyle choices of Tupac Shakur.) Fifteen minutes after receiving her red card, the opponent marched back to the pitch accompanied by her brother and two slavering pit bull terriers. Most people, including me and the referee, ran at warp speed for the nearest hedgerow, but Toney-Ann swaggered towards the invaders, arms held out to her side, showing absolutely no fear. "Yeah?" she said, fronting up to the attack dogs as they strained at the leash mere inches from her throat, "Dogs ain't bullet proof."
The tackles can go in pretty hard as well. We have only one league game left this season, and it's against bitter rivals Petts Wood. In the previous two seasons, we've had two broken legs against them. I don't have any footage of those incidents, but if you think women's football is a sport for pussies, I urge you to check this link for a flavour of what we might be up against.
Anyway, with the Greater London title so close, I'm falling to pieces. Despite the fact that we can now only be beaten on goal difference, I spend hours working out how badly things might go. At the moment we have a +19 goal advantage, and the one team that can beat us, Regents Park Rangers, appear to have a mountain to climb. But, and this is the thought that comes to me regularly in nightmares, it's NOT IMPOSSIBLE. After all, one of their games is against cellar dwellers Panthers Reserves, who have been leaking like a colander at the back all season, and could easily concede double figures. So if we do lose to Petts Wood, and Regents Park win their other game convincingly, the long-cherished prize could be cruelly ripped from our fingers…
The whole situation reminds me of my one decent cash in poker. Going to the final table of the 2007 Gala Great British Poker Tour in Bournemouth, I had more than half the chips in play. But instead of using them to bully the short stacks, I fell into a tight passive funk, check-calling everything. The more mistakes I made, the more I panicked about losing a top three spot in the payout structure. As the hours went by, I let my stack dwindle away, and in the end I had to crack Paul Jackson's pocket aces just to get a sniff of the serious money. Watching the show on TV a few months later made me realise that I could never play poker to a high level. I'm just too timid, too tight, too risk averse. My money isn't just scared, it needs to regularly change its underwear.
Anyway, I hope the girls are a lot braver than me against Petts Wood this month, and we do pick up that third trophy. In which case our fine sponsors the Hendon Mob will need to send more than a congratulatory bottle of champagne. They'll need to send us a bottle of Brasso, too. And I guarantee that Chloe (see profile below) will try to drink them both…
Player Profile Number Three: Chloe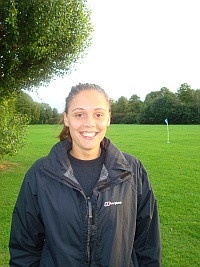 Chloe
A new signing at the start of the season, Chloe is our midfield enforcer, the steel to match our creative playmaker Tara's silk. But that's not to say she doesn't have plenty of "tekkers" herself, and she's fashioned some great goals. A native of Wandsworth, she supports Arsenal and is not safe in nightclubs.
Information Licensing Terms: All information contained on this site is proprietary and owned by The Hendon Mob. Please read our Terms of Use and the conditions that apply before using any of the information on an occasional basis. For regular use of any of the information, please contact us regarding our licensing terms.
GPI® is a registered trademark in the United States under Registration No.4635015.