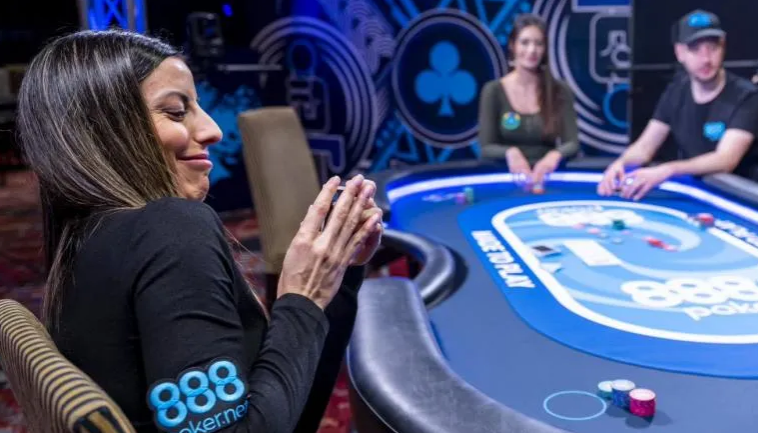 Playing the Game: A Comparative Analysis of Poker and Life Decisions
June 8, 2023
In the realm of decision-making, the game of poker and life share intriguing similarities. Both involve navigating through uncertainty, analyzing contexts, and strategizing to optimize outcomes. This article explores the parallels between the mindset required for playing poker and the mindset necessary for making decisions in life, highlighting the art of analyzing context and attempting to predict the future.
Uncertainty and Risk Management
One of the fundamental aspects that tie poker and life together is the presence of uncertainty. In both domains, we are faced with incomplete information and unpredictable outcomes. Successful poker players and individuals making life decisions must learn to embrace and navigate uncertainty effectively.
Poker players understand that they cannot control the cards they are dealt, but they can control how they play them. Similarly, in life, we often encounter unexpected situations beyond our control, but we have the power to influence our responses. Adopting a mindset that focuses on managing risks rather than avoiding them allows both poker players and individuals to make calculated decisions.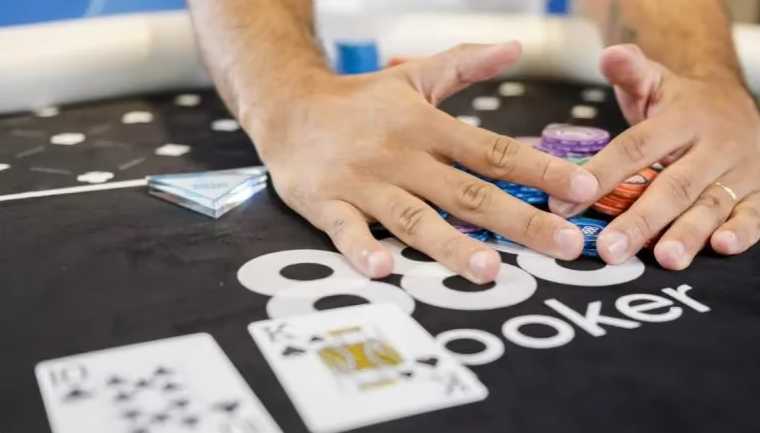 Three Card Poker Tips: Elevate Your Gameplay with These 5 Strategies
June 2, 2023
Three Card Poker is a thrilling casino game that combines the excitement of poker with the simplicity of traditional table games. While luck plays a significant role in this game, employing effective strategies can greatly improve your odds of winning. In this article, we will discuss five valuable tips to enhance your Three Card Poker gameplay and increase your chances of success.

Understand the Payout Structure
Before diving into the intricacies of Three Card Poker, it is essential to familiarize yourself with the game's payout structure. This knowledge will provide you with insights into potential winning hands and their corresponding payouts. Typically, the standard payout structure involves a pair or better as the minimum qualifying hand for both the Ante and Play bets. For a Pair Plus bet, the payouts vary depending on the strength of your hand. Understanding the payout structure helps you make informed decisions when placing your bets.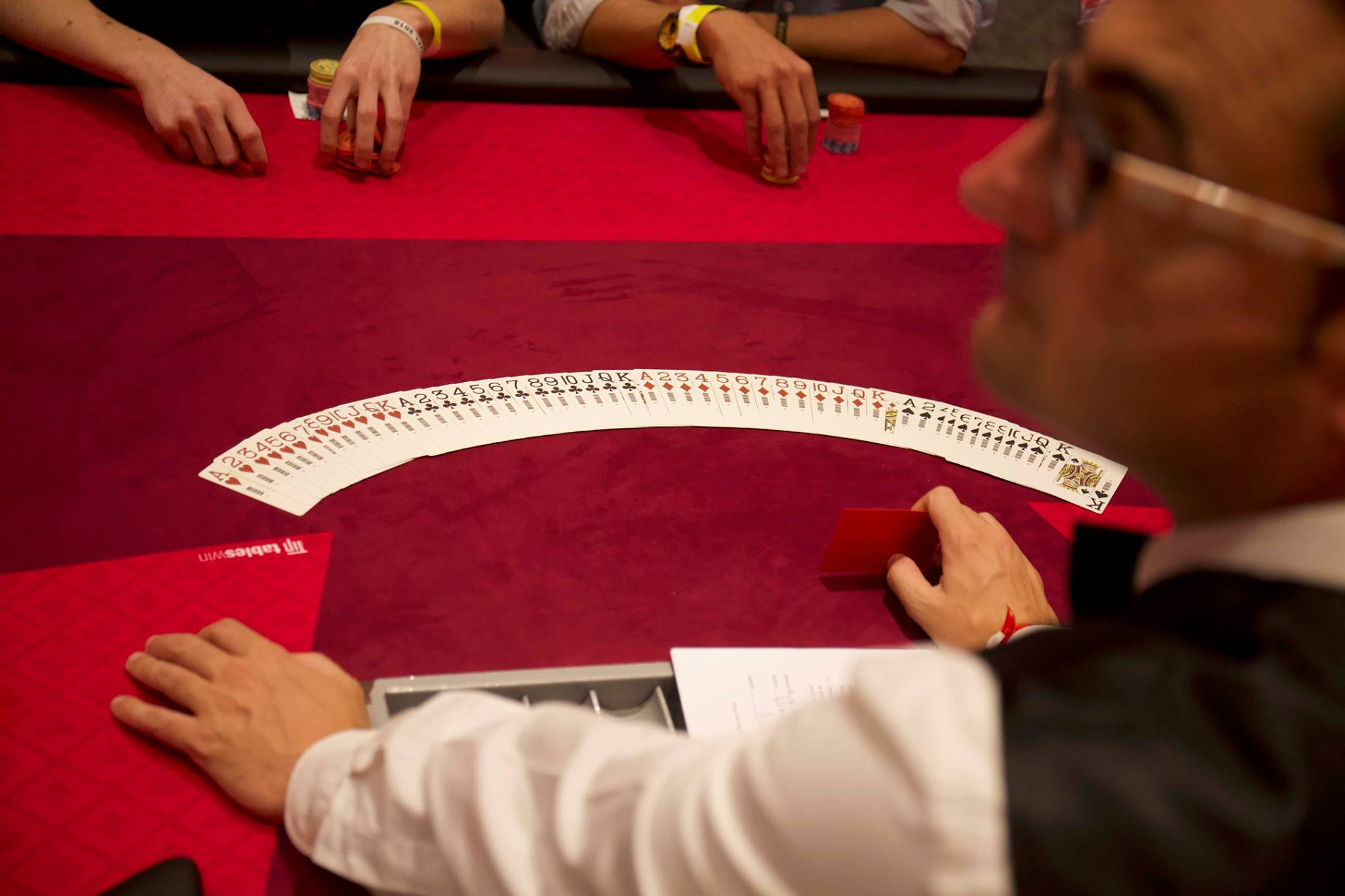 Changing Things Up – Exploring New Poker Variants
May 25, 2023
Poker has never been so popular. With every passing year, the WSOP field sizes grow larger, while online poker platforms combined attract about 120 million regular players. Whilst Hold'em remains unrivalled as the most popular form of the game, the richness of variety in the different versions of the game, from 5 card draw to Omaha to Mississippi to stud is one of the many aspects that gives poker the popularity it enjoys.
Over the past 20 years or so, Texas Hold'em has become central to the world of tournament poker, with most events being run in this variant. However, by focusing exclusively on this one variation, players could be said to be missing out on some fun and variety. Here are some lesser-known poker variants that won't take long to learn and could make your poker playing experience all the richer.
Razz
Razz is perceived as a staple of the mixed game world. It has been around for at least as long as Texas Holdem, and probably even predates it by 10-15 years. The rules of Razz are conceptually similar to seven card stud, in as much as players have seven-card hands. The difference is that the winning hand is the "worst" – so during the hand, players discard cards to try to avoid pairs, runs and so on. It's an intriguing game because it makes you think about poker hands from a completely different perspective.
Anaconda
This version of poker is a lot of fun and not too complicated, so is ideal for novice players. Again, each player is dealt seven cards, from which they must form the best possible five-card hand. Then, the fun starts, as each player discards three cards, passing them to the player on the left. Then, there is a round of betting, followed by another discard, this time of two cards to the right. Another round of betting follows, then the final discard round of one card to the left, before the final showdown.
Zoom Poker
Here's a relatively new poker format that is very much a product of the online poker era. You might see it mentioned on some of the US poker platforms at Legal US Poker Sites as Zone Poker or Fast Fold Poker, but the principle is the same. Instead of taking a seat at a virtual table, you are placed into a pool of players. As soon as you fold, you will be re-dealt a new hand against a different group of players. The biggest benefit to playing fast fold poker is the action is much faster – far less sitting around waiting for a hand to finish, but straight on with with the next hand. The downside to Zoom poker is that you are likely to run up against tougher opposition, as Zoom Poker is known to be favored by more experienced players, and well studies players
Five card draw
Classic movies with poker scenes tend to use five card draw because they love the mystery and excitement of each player scrutinizing his five-card hand – no face-up community cards here! One of the best examples of this is the "poker on the train" scene at the beginning of The Sting. Even if you think you've never played it before, you probably have – in a manner of speaking. Video poker basically follows the identical format as five card draw, just with a pay table instead of the rounds of betting before and after you replace the cards of your choice.
Open Face Chinese
This game is a little like a cross between poker and rummy, as points are at stake with each game. Players are initially dealt five cards each, and then one at a time till they have 13. The idea is to build these into a top hand of three cards and a middle and lower hand of five each. The lower hand must be better than the middle hand, which must be better than the top hand. Trying to craft your own hands is only part of the fun. As all cards are face up, you can also see what your opponents are trying to achieve and defend accordingly. Shaun Deeb gives a masterclass if you'd like to learn more!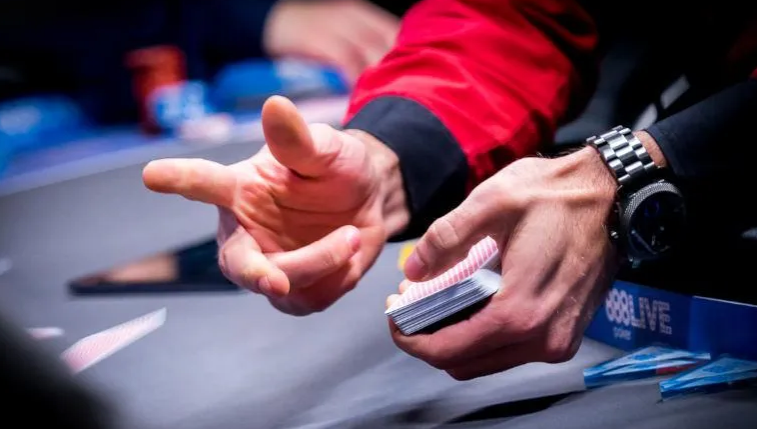 Top 5 things that are bad for poker
May 25, 2023
Things have changed a lot for the better over the last few decades. But as we see with global warming, cyberbullying and the emergence of Jake Paul, progress can often come at a cost.
Today we will look at the top five modern developments threatening poker and its longevity.
Here they are in no particular order of importance or notoriety:
Excessive Tanking
Shot Clocks
Scandals
Technology
GTO and Solvers
Excessive Tanking
One of the most annoying developments in recent years is the deliberate tanking adopted by some players. In case you're behind with your slang, tanking happens when players deliberately take longer than necessary to play their turn.
Taking extra time to minimize tells or mull over a tough decision is reasonable in moderation. But some players have started to abuse the system attempting to annoy and/or tilt their opponents. Perhaps they think it looks cool.

4Poker Sunday High Roller Boasts $1.25 Million Guarantee
May 25, 2023
This Sunday, May 28th, 4Poker is hosting a $10,300 High Roller event featuring a $1,025,000 guarantee. Freerolls and direct satellites are available on the online platform. There is a MegaSat with 5 seats guaranteed kicking off Sunday morning at 10:00 am ET. 4Poker is also offering new players a huge WSOP Main Event promotion and a welcome bonus which includes rakeback.

VALUE ALERT! Freerolls paths are running every day into this Sunday's $1.25M Guaranteed High Roller at 4Poker. Download the 4Poker desktop client today.
The $1.25M High Roller has a $10,300 buy-in (28 May) with a daily schedule of guaranteed-seat satellites running. Satellites and tourneys have been regularly overlaying so plenty of value on offer, and lots of chances still to qualify.

GO 4 PRO (while you are there…)
Any depositors will also be automatically eligible for the Go4Pro Freeroll on June 4, awarding 4 packages to the Vegas Main Event, and many more cash prizes.
Four Main Event Packages To Be Won
4Poker has arrived! To celebrate, we're giving the first 4,000 players who make a deposit to their 4Poker account by 23:59 ET on June 3 a free shot at playing the World Series of Poker Main Event. Be one of our first depositors and you'll get a chance to freeroll your way to Las Vegas and into the $10,000 WSOP Main Event. 
Our first 4,000 players to deposit will receive an entry into a freeroll tournament that will award the top 4 finishers with a 4Pro Experience that will consist of:
Entry into the $10k WSOP Main Event
Travel to Las Vegas
Accommodation
Bryn Kenney Masterclass: Coaching and wellness session
4Poker branded merchandise
On top of that:
The next 44 finishers (5th to 48th) will be credited $400 cash in 4poker account
OPT-IN (for more Rakeback…)
4Poker gives a daily rakeback of 25% as standard. When you opt-in to CashBack4You you'll get an additional rakeback boost of up to 50% (against 400% of your first deposit)
Visit https://4poker.eu/promotions/welcome-offer for details.
Opt-in to 'CashBack4You' while making your first deposit.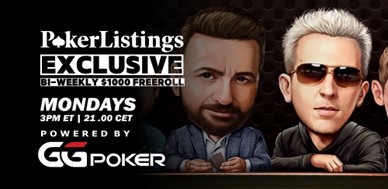 GGPoker Freerolls, Euro Live Event Action & WPT Global's Spring Series
May 24, 2023
There's some free money for poker grinders and fun recreational to grab on GGPoker courtesy of PokerListings, as well as a massive update on Juicy Stakes Poker that might not seem world-shaking but is particularly pleasant for online poker grinders. As we build up to the biggest time on the poker calendar, WPT Global runs a huge spring series that will compete with the best.
Boost Your Bankroll Through the PokerListings $1,000 GTD GGPoker Freerolls
Freerolls have widely been known to be one of the best possible ways to grow your bankroll and climb your way up the poker ladder, or if you're a beginner, they are a great place to have fun and learn the game.
If you've never been able to enter the GGPoker streets, you can now, courtesy of PokerListings. They have partnered with GGPoker to hold a bi-weekly exclusive PokerListings $1,000 freeroll, giving online poker players of all backgrounds a chance to have fun and grow their poker bankroll.
Online poker freerolls are risk-free for both collectives, allowing online poker fans to play on new software and enjoy the poker operators at the top of the industry. One of those operators is GGPoker, which has battled for the online poker throne that PokerStars dominated for several years.
How to Play in the PokerListings $1,000 GGPoker Freerolls
You can find the PokerListings freeroll on the GGPoker client; here are the key details:
Bi-weekly on Monday at 3 pm ET/9 pm CET
Registration opens 1 hour before the start
200BB starting stack
Password: onechippoker
Prize pool: $1,000 GTD
Tips on How To Crush Poker Freerolls
Tight and Aggressive: A big mistake beginners and newbies to freerolls make is taking a "bingo" approach to poker, playing too wide a range, and being too passive to see flops. The more people in the pot, the less equity your hand has (chances of making the best hand) – this goes from your favorite hand of 6h5h to AA. Keep your range tight and play your premiums aggressively.
Punish Limpers: When people open-limp, you can isolate an almost guaranteed weak holding with your medium-to-strong hands. Raise them, isolate them, and then battle post-flop. If you find yourself in the amusing situation of getting limp-raised, just fold – they always have Aces!
Put Pressure on Opponents: This tip is most appropriate deeper in the tournament, especially around the bubble or deeper towards the final table. Have some 3-bet bluffs in the bank, and put their tournament life on the line when you bluff. The splashy nature of a freeroll will dry up once money is at stake!
PokerListings has one of the most extensive poker strategy article collections in the world, offering experience-based knowledge from the past 20 years the site has been online.
Spin Your Freeroll Winnings on GGPoker
There's no better poker site to spin up your new-found bankroll than GGPoker, especially during the current World Festival Series. You can turn your PokerListings freeroll winnings into a seat for the $2.50 buy-in Mega Sattelite to the World Festival Millions $1,000,000 GTD – now that would be quite the spin-up.
Olybet & partypoker Bringing Huge Tournaments to Europe
There's some major European tournament action coming, with some huge events and guarantees all over the continent. Whether it is Malta, Estonia, Ireland, and beyond, you can find prime opportunities for poker players and fans to play in some amazing tournament series.
Olybet is hosting their immensely popular Kings of Tallinn in Tallinn, Estonia, at the Casino Olympic from July 21 to July 30 this year, with over 50 tournaments on the schedule and juicy cash games running all day and night.
Why should you hop on a short flight and fire this tournament series? The Tallinn Hilton Park Hotel is one of the most comfortable and luxurious stays you can find for a series like this, with reasonable rates accompanied by spa access, breakfasts, and more. The events range from a €1,100 Main Event to a €150 PLO event and a €250 Mystery Bounty.
As well as Olybet bringing great poker action to Europe, partypokerLIVE is back with three 2023 events. There will be three €1 million guaranteed tournament series in Bratislava, at the Juli Card Casino, in Malta at the Portamaso Casino, and at a to-be-confirmed poker room in Ireland.
PokerListings will be on-site for all these tournament series, giving you on-the-ground updates for all the poker action at all these exciting events. – we hope to see you there! You can join us through online qualifiers, which starts on Monday on partypoker, allowing you to get a seat at these events for a tiny investment.
WPT Global's Spring Festival is The Perfect Series Warm Up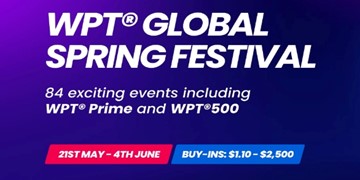 It's widely known across the poker world that the summer to autumn period is the crunch for online and live poker. The biggest online and live series happen then, with players ascending and descending down the poker ladder depending on how they run in the biggest spots. Accolades, awards, and trophies are up for grabs, as are bragging rights that poker players can hold for a lifetime.
There is no better way to start this competitive poker period than the WPT Globals' Spring Festival, which runs from May 21 to June 4 and has 84 events for players to fire up and run up a juicy bankroll in poker's biggest period.
You can find events ranging from $1.10 to a $2,500 High Roller, and if you're a fan of multiple poker variants, you can find those two – there's No-Limit Texas Hold'em, Pot-Limit Omaha and event Short Deck tournaments on offer.
The biggest and most notable event in the schedule is the WPT Prime $1,060 Championship event, which has 10 different Day 1 flights before the Day 2 finale, with $200,000 to be scooped up in this event. The WPT Global Spring Festival is not to be missed!
Juicy Stakes Poker is For The Poker Player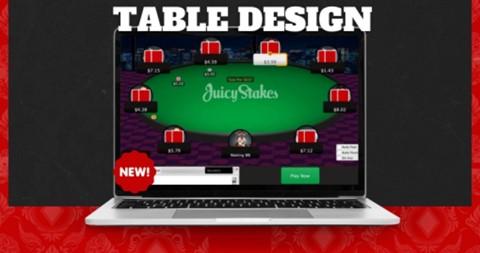 We love it when a poker operator makes a move to improve the online poker experience. And especially so when it's for the grinder, someone who loves the game and plays whenever they can. Juicy Stakes Poker has done precisely this with a recent update.
Nothing is more annoying than playing online cash or an MTT and working out your Big Blinds like a live poker event. Thankfully, Juicy Stakes updated poker software has made it so you can automatically see your stack in BB instead of the chip value – this might not seem big but it is huge for online poker grinders. You can put your calculator away now!
You can go to Options, Graphics, and then click the option to show chips as big blinds for tournaments and cash games. It's easy, helpful, and significant in making the poker site more friendly for online grinders.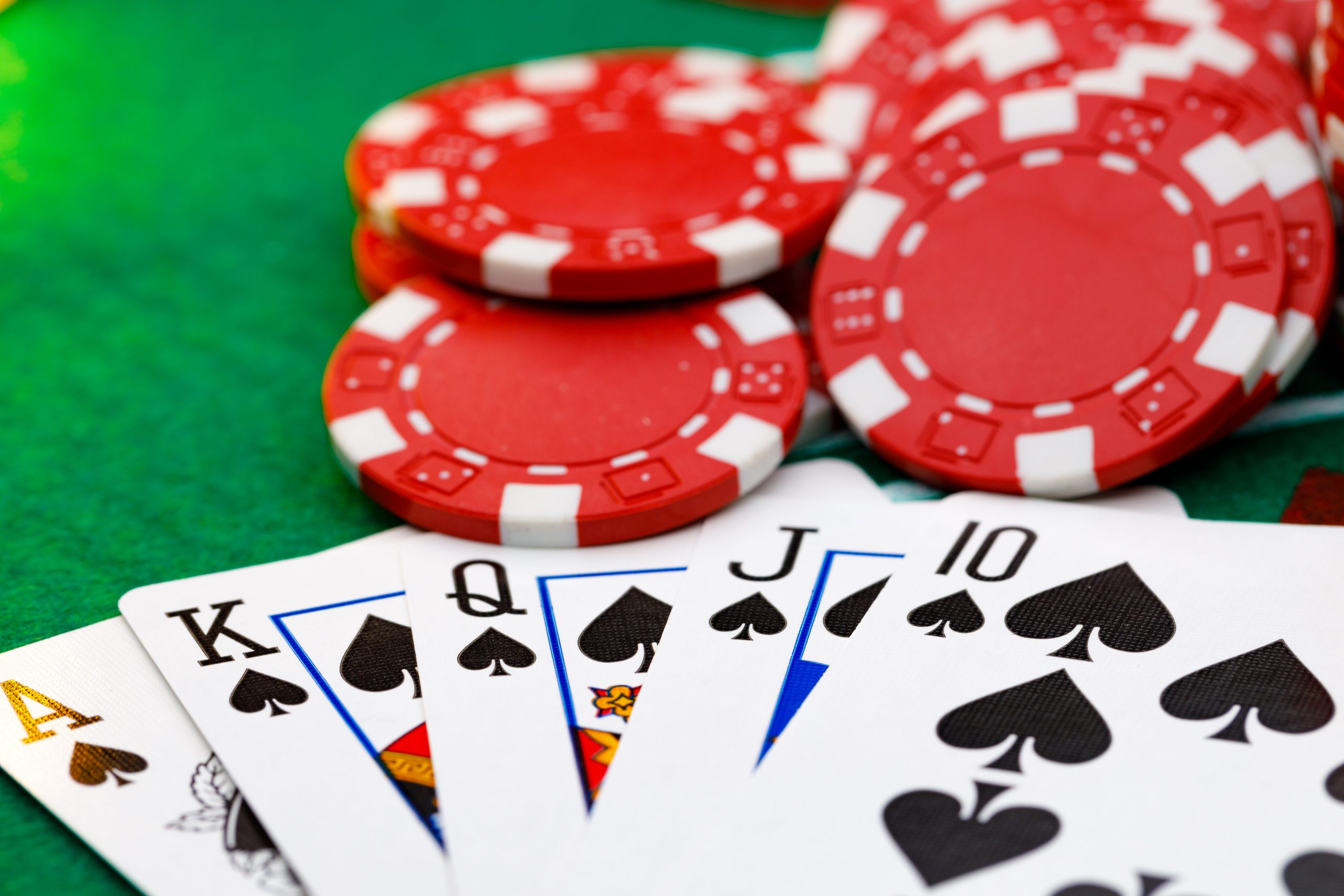 Mastering Omaha Poker: Tips and Strategies for Winning
May 23, 2023
Most people believe that gambling in casinos is a game of luck. But nothing can be further from the truth. In his book, The Richest Man in Babylon, George S. Carlson argues that people can increase their chances of getting lucky by following sound financial principles.
Learning the rules of the games, the winning strategies, and bankroll management are crucial for improving your luck. You can also find free games at your preferred online casino to practice without risking any money until you are confident enough to take additional financial risks.
Some casino games to play and practice include card games, slots, and poker games. You can also play live dealer games. But note that every game has specific rules. For instance, before playing poker, it is essential to understand the different hand rankings and familiarize yourself with their variations, such as Texas Hold'em, Seven-Card Stud, and Omaha.
Omaha Poker; Things to Keep in Mind
Omaha is similar to Texas Hold'em because they are community card games. In other words, it can be played by two to ten players on a standard deck of 52 cards. One of the players is the dealer, and they will issue four cards facing down to each player. The dealer also places five cards (facing up) in the middle of the table.
The player's hidden cards are called hole cards, and the ones revealed are called community cards. Any player can use the latter. Omaha can be tricky for beginners but can be fun and exciting once you've gotten used to it. You win by making the best five-card hand using two original hole cards and three community cards.
Note that there are only four rounds of betting in Omaha poker. Therefore, understanding the flop, turn, and river is critical to winning the Omaha poker game. A winning or good hand might include five consecutive cards like 3-4-5-6-7 or A-2-3-4-5. That is called winning with a "straight." You can also win with a "flush." In that case, the cards will have different denominations but the same suit—for example, five spades or five hearts.
Other good hands include a "full house" and "four of a kind," meaning you can also win if you get three cards of the same rank and two cards of another class. For instance, J-J-J-9-9 or 5-5-5-A-A is a full house. You win with four of a kind if your cards are of the same rank, such as Q-Q-Q-Q or 7-7-7-7.
However, there are factors to consider when playing Omaha poker to increase your chances of winning. For instance, apart from the rules of the game and the different hand rankings, it would be best to familiarize yourself with the different types of Omaha poker.
Conclusion
Like in any gambling activity, when playing Omaha Poker, it is vital to learn and read the opponent's behavior and body language and bet only what you can afford to lose. Only bet your money after learning the ins and outs of the game. Practice with free games in online casinos and graduate slowly until you are confident with your poker mastery.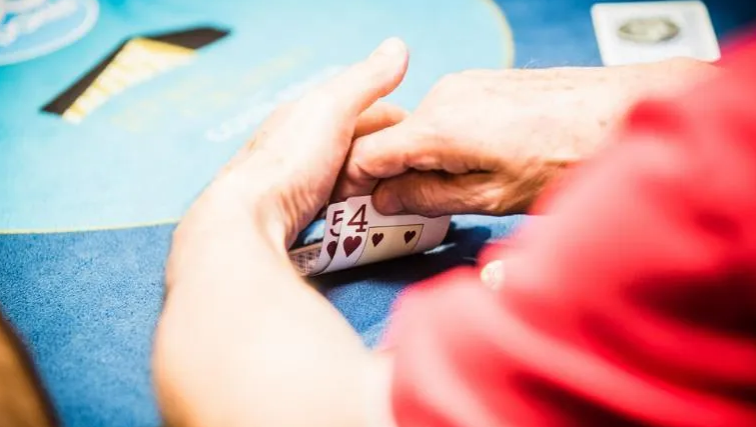 What is the net worth of high stakes poker player Nik Airball?
May 19, 2023
As streaming live cash games become increasingly popular, Nikhil Arcot (better known as "Nik Airball") has become a regular on Hustler Club Live. The show sees massive cash swings on the table and Airball repeatedly mixing it up in action.
In March 2023, the high-stakes regular spoke about losing $744,000 in a session on the show. That ballooned to more than $900,000 over that same week. The same month, he took some shots at poker coach Matt Berkey.
Airball challenged Berkey to heads-up cash game action. The two eventually agreed to play three days in Las Vegas at $200/$400 blinds with a minimum $100,000 buy-in. The event has the chance to affect Airball's net worth – either positively or negatively.
| | |
| --- | --- |
| Net Worth | Speculated to be at least $8 million to $10 million* |
| Total Tournament Winnings | $20,700 |
| Major wins | Negligible major tournament wins |
| Other revenue streams | Cash game winnings, investment banking |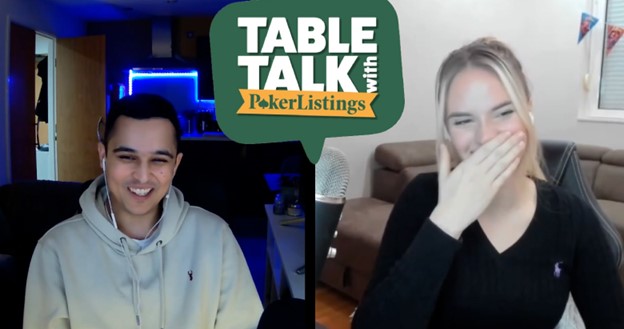 How Do You Become a Top Poker Streamer?
May 12, 2023
Ever wondered how hard it is to be at the top of the online poker streaming world? PokerListings had guest CallMeLija on their TableTalk podcast to discuss all things GGPoker streaming, becoming a top content creator, and what it takes to become the best.
As well as this, we show you how you can spin a satellite on Juicy Stakes Poker into a $5,200 tournament package in Europe, giving you the high-stakes tournament dream for a small fee. On top of this, we give you an intro to EvenBet and why they are shaking up the poker software industry for the better.
What it Takes to Become an Elite GGPoker Streamer
When it comes to giant online poker streamers or content creators, they do not come bigger than Andrijana "CallMeLija" Gligoric, who has been on a Twitch tear since 2020 to reach the pinnacle of the ecosystem.
What started as an aptitude for social media and some interest in the Serbian cash game scene soon rolled into grinding online poker on Twitch and building a massive audience. Now, CallMeLija has almost 20,000 followers on Twitch, almost 50,000 on Instagram, and nearly 20,000 subscribers on YouTube. These numbers across multiple social media channels are unheard of for a poker content creator.
During the latest PokerListings TableTalk podcast, CallMeLija breaks down her rapid rise in the poker content world, how she creates content from ideation to execution, and what it truly takes to manage to be a winning online poker player and a winning content creator.
For anyone dreaming or aspiring in the world of poker content, this podcast is a must-listen. There are tips and tricks on how to break into the poker streaming space, with so much added value on how you can balance the dream of poker stardom and the grind of winning online.
Listen to the full podcast episode with CallMeLija here.
Win a $5,200 European Poker Package
Ever dreamed of playing in a high-stakes live MTT, playing at a top-class poker venue, and staying in a luxurious hotel? This is the opportunity that high-stakes tournament crushers have on a regular basis, as you might have seen in events like the European Poker Tour or the Triton Poker Series.
A newcomer to the live poker circuit is the Poker EM 2023, being held in Velden, Austria, this year. This European Poker Championship is being held in a beautiful lakeside town. They are now giving away an entire $5,200 package on Juicy Stakes Poker, running regular satellites there to give online poker players a chance to play in a dream spot.
The $5,200 package ensures a seat in the €2,750 buy-in Main Event, which runs from July 26 to 29, a five-night stay in a premier hotel near the casino, and a juicy $500 cash bonus for you to spend in the action cash games or on activities in Velden.
You might wonder where you can get your hands on this exciting European poker adventure. If you head over to Juicy Stakes Poker, you can be in the mix within seconds. Qualifiers can be found under the Poker EM 2023 tab on the JSP client, and you can find multiple ways to fire satellites, with feeders making it accessible for the low-stakes grinders too!
What Makes The Best Online Poker Software?
As more and more online poker rooms pop up, you might think about what makes a poker site successful. Is it the ambassadors they signed? Is it the satellites they run, the rakeback, or the live events? You will quickly find that the biggest reason for online poker success is the poker software.
This is where EventBet has come in. They have become a prime innovator in a space that needs it, allowing poker operators to use secure, safe, and dynamic software that is easy for all poker players to use. They are intelligently based around Bitcoin and blockchain technology, ensuring fair play but also making sure there is a decentralized system in place to avoid a problem like Full Tilt had in 2011.
EvenBet caters to all kinds of poker players, too, creating multiple poker games on their software, including the popular Open Face Chinese, Stud, Razz, PLO, and more. The Game Constructor tool also ensures a personalized poker experience which is wanted by both recreationals players and grinders alike.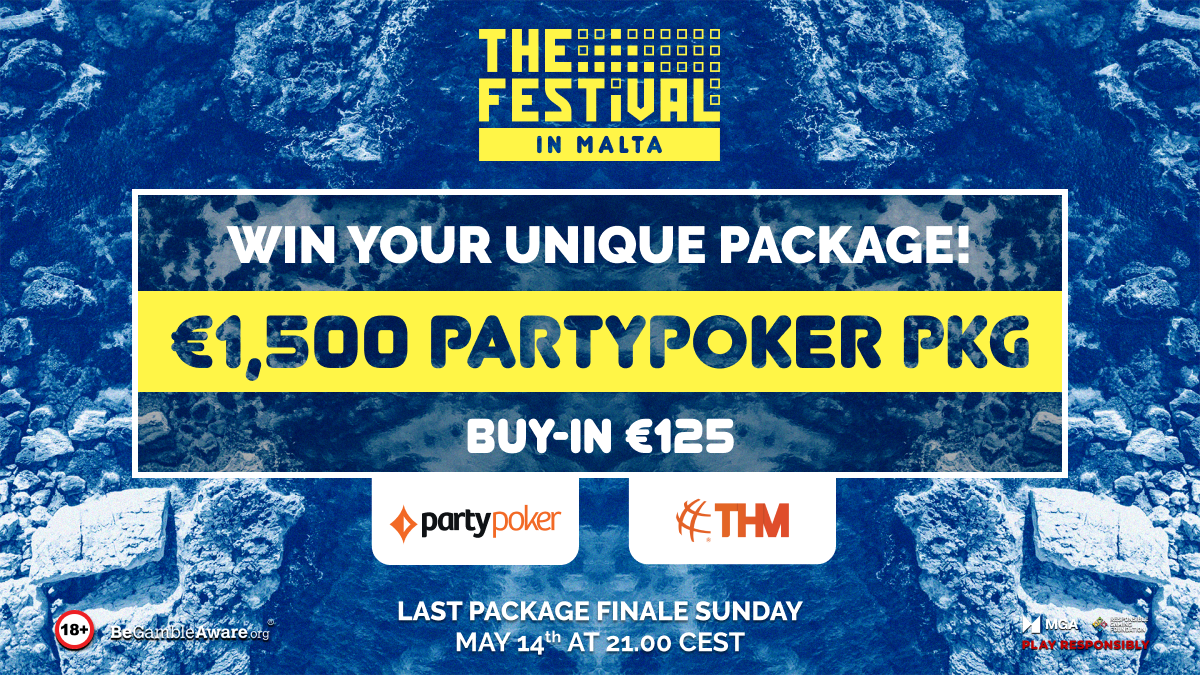 The Festival and partypoker to give away 20 free tickets to the €12.50 partypoker feeder satellites
May 11, 2023
With The Festival in Malta just a few days away, The Hendon Mob has teamed up with The Festival and partypoker to give away 20 free tickets to the €12.50 partypoker feeder satellites to Sunday's 21:00 CEST €125 satellite to The Festival in Malta with 1x €1,500 package guaranteed.
Details: €1,500 partypoker Package
5 nights single/double/twin hotel room at the hotel Valentina or similar (you can bring a friend) up to 2 persons Tuesday 16th May – Sunday 21st May.
1 x €550 buy-in for Main Event
€100 pocket money for travel expenses, or for accommodation (will be paid out directly in your partypoker account)
The Hendon Mob will raffle off 20 x €12.50 feeder tickets for twenty random selected players who reply with their partypoker nickname. Successful new accounts will be awarded 2 x €12.50 feeder tickets.
Giveaway rules:
Tickets will be credited player's partypoker account and have no cash value.
20 respondents will receive €12.50 satellite feeder ticket.
Players will only be eligible to receive the prize if they respond with both screen name and email address.
Winners will be contacted by email, and their account automatically credited.
If 20 or fewer players respond, then all players will receive a €12.50 satellite feeder ticket.
Regarding the awarding of tickets, the decision of The Hendon Mob is final.
Offer will only be available in the following markets: UK, Finland, Hungary, Malta, Ireland, Czech Republic.
Giveaway closes at 12.00 CEST on Friday 12th May. Any entries made after this time will not be counted.