11/02/2013
Genting Poker Series Star City
I'm in Birmingham for leg 1 of the GPS. What joy! Just woke up after a solid five hours kip; not too bad for a man of my advancing years. The dull ache in the back of my skull caused by the old ball and chains endless nagging is beginning to ease away now. No screaming kids, no dog to walk, no little jobs around the house to be taken care of. So peaceful. If I turn the radiator in my room up to seven and close my eyes I could be in the Caribbean. Thank heavens for Genting poker! I fancy first prize could be around £50,000, not too shabby for a £400 buy inn. Now all I have to do is win it! My plan is to play good and get lucky. Updates to follow.
Ps love you really Mrs B. x
Genting poker series Day 1A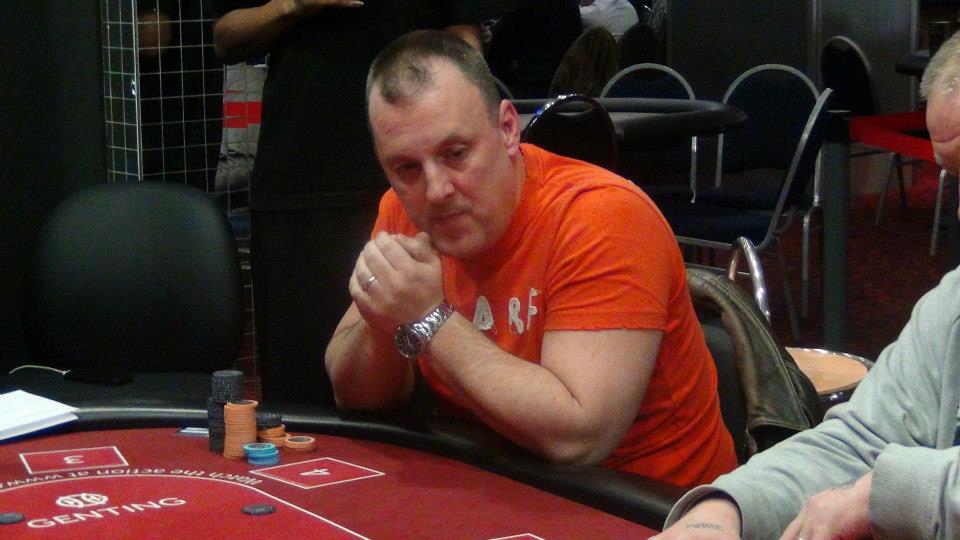 Ross Boatman
Thank you all for you good luck messages, they were much appreciated. I'd like to tell you it was a glorious day, that I played like a god, and will be heading into day two with a massive chip lead. Truthfully, I can't say that I played my absolute A game, and the deck certainly didn't hit me in the face. However, I did pay a solid game and Lady Luck didn't turn her back on me entirely. I managed to make it into day 2 with 62,200. It's a little below the average at this point but the blinds will be 800/1600 at the start of the day which means there is still plenty of play in my stack. It's not ideal but I'm still there and still in the hunt. Today is day 1B which means I have a day to rest and recover after a gruelling twelve hour day. Tomorrow we go to war!
Genting poker series Day 2
Thank you again for all your messages. All the fingers, toes and legs you've crossed for me seem to be paying off! There were 584 entries into this leg of the tour, 23 players remain, and yours truly is still there in the hunt. We played ten one hour levels yesterday, and the first nine went very well for me. I played super solid poker, and without ever once flopping a set, making a flush or hitting a straight, I managed to build the 62,000 I started the day with into 750,000. Then the wheel came off. At the penultimate level, with sevens seconds left on the clock before the last break of the day, the dealer managed to riffle the deck and deal us one last hand. The short stack at the table moved all in for 19k. The action was passed round to me in the small blind and with Ace Ten suited I raised it up to 40k hoping to shut the big blind out and get the pot heads up with the all in player. Unfortunately the big blind had other plans. He flat called my 40k "I have a monster", he announced "Me too" I replied" The flop came down Ace, five, nine. I made a continuation of bet 50k and he called quickly. The turn card was an eight, I fired out another 80k. and again he called without hesitation. The river was a four. By now The alarm bells were ringing and I wasn't feeling too confident about my hand. I checked and my opponent rolled over Ace King. I lost 170k in the pot. It wasn't a fatal blow but it was certainly a turning point for me. At the final level of of play nothing went my way and I finished the day with a very disappointing 250k. Day three will begin with the average stack being around 600k and blinds of 10k/20k
I'm not in great shape but I'm there, Ive got a shot, and with the blinds being so big things can change very quickly at this stage. 23rd place will pay £1,230 First prize is a massive £55,000. Lets gamble!
Genting poker series day 3
Whoopee! Third place and a grand prize of £30,000.
Thank you so much to everyone who wished me good luck. It genuinely spurred me on to know there were so many people willing me on to do well. Thank you also for all the congratulatory messages, again it's very warming to to have so much support.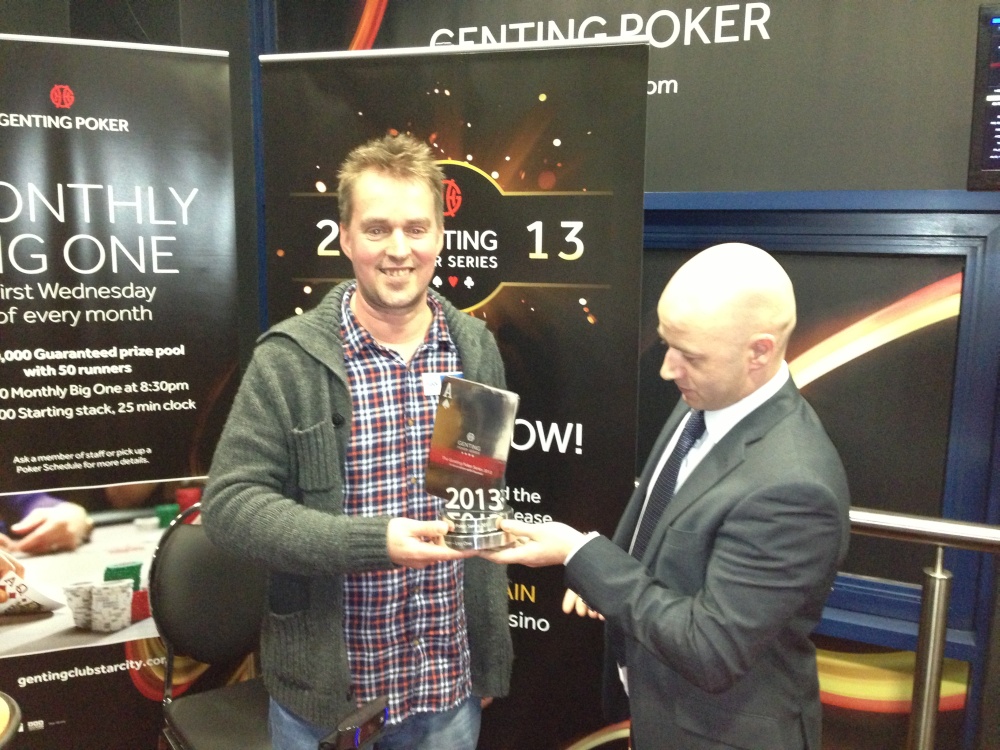 Julian Thew and Colin McTaggart
I started day 3 with just 12 big blinds. For the benefit of my non poker playing buddies, that basically means I was very low on chips. I fully expected to be home in time to take the dog for his daily trot around the park and then pick the kids up from school. But as luck would have it I managed to accumulate some chips early on by getting all my money in with the worst hand twice and get lucky both times. After that I never really looked back, I played good and eventually arrived at the final table with confidence and 2.2 million in chips. For the first four or five orbits I was completely card dead and as my chips were ebbing away in blinds and antes, the short stacks were building and growing in confidence. When I did eventually find a hand, Ace King suited, I was played off it Pre flop by a player who as it turned out had A.K also. I was beginning to feel that perhaps it wasn't going to be my day after all. Then all of a sudden it was as if the heavens opened up and the poker gods were not so much smiling, but grinning at me, and even giving me the thumbs up. I wouldn't say the deck hit me in the face, it was more like it jumped off the table slapped me round the mush with full force. I went on a heater like I've never known. Aces and kings came raining down on me, and within twenty minutes five of my opponents had bitten the dust and I had gone from 1.7 mil to 5.2 mil. We were now four handed now and I was buzzing, but heaters don't last for ever and when I got the short stack all in for his last 500k with yet another pair of kings, and his queen ten rivered a straight, I knew it was over. I immediately doubled him up again when I ran AQ into AK and then lost another big pot when Julian Thew out played me. I was down to 2.6 and was now the short stack. When a deal was suggested I was happy to listen. 30 bags each and 40 for Julian who had a commanding chip lead seemed like pretty good business to me me. We shook hands a decided to play on for the trophy. It would have been very nice to pick up the trophy but I was exhausted, and now that the deal had been done and I was so low on chips I was going to find it hard to focus. I wanted a speedy conclusion one way or the other so I decided it was time to start gambling. I four bet jammed for 2.5 with A3, found myself up against AA and it was curtains for the Boatman. Congratulations to Julian who went on to lift the trophy. A class act, a true gent and a very worthy winner. Well done mate.
Information Licensing Terms: All information contained on this site is proprietary and owned by The Hendon Mob. Please read our Terms of Use and the conditions that apply before using any of the information on an occasional basis. For regular use of any of the information, please contact us regarding our licensing terms.
GPI® is a registered trademark in the United States under Registration No.4635015.