'Rocky' Ross Boatman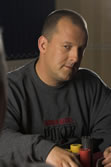 Ross Boatman is well known to the British public as a popular actor who also plays poker. On the poker circuit, he is known as a top poker pro who also happens to be an actor.
His acting skills no doubt contribute to the powerful presence and confidence that help make him such a formidable and respected opponent. Relaxed and good-natured, he is as popular as he is feared. Ross is probably best known for his eight years as the lovable Kevin in 'London's Burning', Britain's most successful ever TV drama series. He has many TV credits to his name and his stage career has covered the full range from costume drama to light comedy, most notably his starring roll in the award winning West End production of Dealer's Choice a comedy based around a poker game! Ross's movie roles have included a staring as a gangster in 'Hard Men', the stylish black comedy that is the acknowledged forerunner to 'Lock Stock and Two Smoking Barrels'.
Ross has an impressive and cosmopolitan poker pedigree. He made the Austrian World Series Trial final four years in a row. He has been Irish Open Omaha champion, Austrian Open Omaha champion and British Open Poker champion. Despite juggling his two careers he was the top money winner on the European tournament circuit in 2002. He continues to score highly on world tour where his many recent achievements have included the 2004 British High-low Omaha championship.
Click Here to see Ross' profile in the Mob Database.
Articles by Ross Boatman
Information Licensing Terms: All information contained on this site is proprietary and owned by The Hendon Mob. Please read our Terms of Use and the conditions that apply before using any of the information on an occasional basis. For regular use of any of the information, please contact us regarding our licensing terms.
GPI® is a registered trademark in the United States under Registration No.4635015.