WSOP 2007 Event #1 Winner
2007 World Series of Poker
Rio All-Suite Casino and Hotel
Event #1
Mixed Hold'em
Buy-In: $5,000
Number of Entries: 451
Total Prize Money: $2,119,700
Date of Tournament: June 1-3, 2007
WSOP GOLD BRACELET WINNER EVENT #1 – STEVE BILLIRAKIS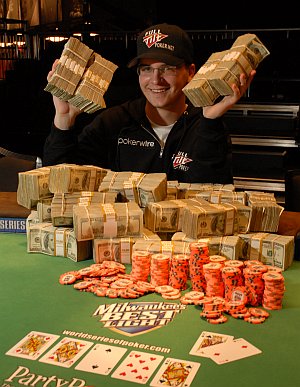 Steve Billirakis
Imagemasters photography
Steve Billirakis became the youngest winner of a gold bracelet in the 38-year history of the World Series of Poker. He was born on May 23, 1986 — making him 21 years and 11 days at the time of victory. This eclipses the mark set last year by Jeff Madsen — who was 21 years, 1 month, and 9 Days when he won his gold bracelet.
Billirakis was born and still lives in Chicago, Illinois. He has been playing poker for about three years, although this marked his first venture into the competitive live tournament arena. He paid $5,000 in cash to enter the competition and earned $536,287 in prize money.
The young champ says he intends to play several more WSOP events over the next five weeks. That means an *age-related* record which was widely considered unbreakable (Jeff Madsen's two WSOP gold bracelets last year by age 21 years, 1 month, and 18 days) is now in jeopardy. If Billirakis can win any WSOP tournament prior to the main event this year, he would break Madsen's record.
Billirakis' poker nickname is "Mr. Smokey." The soft spoken young man expressed extreme confidence about his chances of victory. "I really expected to win it," he said. "I mean, that's why I am here, right?"
WSOP Commissioner Jeffrey Pollack presented new poker champion Steve Billirakis with his first gold bracelet, specially designed by luxury Swiss watchmaker Corum, in a special ceremony at the conclusion of the tournament.
Billirakis' victory will be the debut ESPN telecast of the 2007 season. This event is expected to air on July 10, 2007.
by Nolan Dalla