Stephanie
Our July 2006 mobster is Stephanie.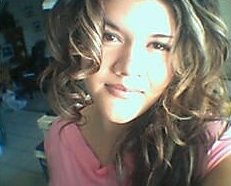 Name:

Stephanie

Nickname:

PokerChix

Age:

24

Address:

Coppell, Texas

Country:

USA

How do you know about the Hendon Mob:

Just surfing around

Hobbies / Interests:

Poker

Favourite film:

Rounders

Favourite music:

RocknRoll

Favourite person:

myself :-)

Favourite joke:

Harry gets home late one night and his wife, Linda, says, "Where in the hell have you been?"

Harry replies, "I was out getting a tattoo."

"A tattoo?" she frowned. "What kind of tattoo did you get?"

"I got a hundred dollar bill on my privates," he said proudly.

"What the hell were you thinking?" she said, shaking her head in disdain. "Why on eart h would an accountant get a hundred dollar bill tattooed on his privates?"

"Well, One, I like to watch my money grow. Two, once in a while I like to play with my money. Three, I like how money feels in my hand. And, lastly, instead of you going out shopping, you can stay right here at home and blow a hundred bucks anytime you want."
Information Licensing Terms: All information contained on this site is proprietary and owned by The Hendon Mob. Please read our Terms of Use and the conditions that apply before using any of the information on an occasional basis. For regular use of any of the information, please contact us regarding our licensing terms.
GPI® is a registered trademark in the United States under Registration No.4635015.