Christopher Hanel
Our July 2005 mobster is Christopher Hanel.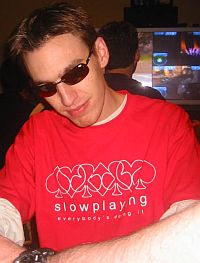 Name:

Christopher Hanel

Nickname:

The Poker Geek

Age:

24

Address:

Los Angeles, CA

Country:
USA

How do you know about the Hendon Mob :

Oh, you know, here and there.

Hobbies / Interests :

Poker, Filmmaking, Improv Acting

Favourite film :

The Usual Suspects

Favourite music :

Ben Folds

Favourite person :

Marcel Luske

Favourite joke:

Q: How many poker players does it take to screw in a light bulb?
A: That depends...
Information Licensing Terms: All information contained on this site is proprietary and owned by The Hendon Mob. Please read our Terms of Use and the conditions that apply before using any of the information on an occasional basis. For regular use of any of the information, please contact us regarding our licensing terms.
GPI® is a registered trademark in the United States under Registration No.4635015.