Angie Newth
Our January 2006 mobster is Angie Newth.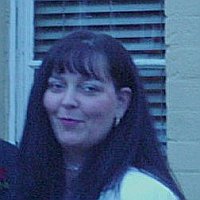 Name:

Angie Newth

Nickname:

North Angel

Age:

35

Address:

Newcastle, England

Country:

England

How do you know about the Hendon Mob:

We all get drunk every August bank
holiday.

Hobbies / Interests:

Poker, Vodka, Poker

Favourite film:

The Green Mile

Favourite music:

R & B

Favourite person:

My Husband Davey

Favourite joke:

A fireman is polishing a fire engine outside the fire station when he notices a little girl next door in a little red cart with little ladders hung off the side and a garden hose tightly coiled in the middle.

The little girl is wearing a fireman's helmet and has the cart tied to a dog and cat.

The fire fighter walks over to take a closer look, "That's a lovely fire engine," says the fireman admiringly. "Thanks," says the little girl.

The fireman looks closer and notices the little girl has tied one of the cart's strings to the dog's collar and one to the cat's testicles.

"Little girl," says the fireman, "I don't want to tell you how to run your fire engine, but if you were to tie that rope around the cat's collar, I think you could probably go a lot faster.

The little girl pauses for a moment to think, looks at the wagon, at the dog and at the cat, then shyly looks up into the fireman's eyes and says...

"You're probably right, but then I wouldn't have a f**king siren, would I".
Information Licensing Terms: All information contained on this site is proprietary and owned by The Hendon Mob. Please read our Terms of Use and the conditions that apply before using any of the information on an occasional basis. For regular use of any of the information, please contact us regarding our licensing terms.
GPI® is a registered trademark in the United States under Registration No.4635015.