Adam John Goudie
Our July 2007 mobster is Adam John Goudie.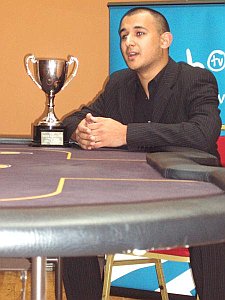 Name:

Adam John Goudie

Nickname:

Mr Bejam / Bejam

Age:

23

Country:

England

How do you know about the Hendon Mob:

Watching Late Night Poker Few Years Back

Hobbies / Interests:

Poker/Reading/Writing/Watching Films/Pool

Favourite film:

Do I have to say Rounders? The Pink Panther films

Favourite music:

Trip Hop, Hardcore Metal, DnB, Classic, anything

Favourite person:

My girlfriend/family

Favourite joke:

After going broke, poker player puts last 50p in a vending machine.
Vending machine jams.
He says, " good game....."
Information Licensing Terms: All information contained on this site is proprietary and owned by The Hendon Mob. Please read our Terms of Use and the conditions that apply before using any of the information on an occasional basis. For regular use of any of the information, please contact us regarding our licensing terms.
GPI® is a registered trademark in the United States under Registration No.4635015.