Welcome to the Mob's Media Gallery. Here you will find group shots of the Mob as well as individual images. If you would like to use any of these images for publication in printed media or website use please e-mail support@thehendonmob.com.
Click on an image to download a 300 DPI High Resolution Image suitable for Print.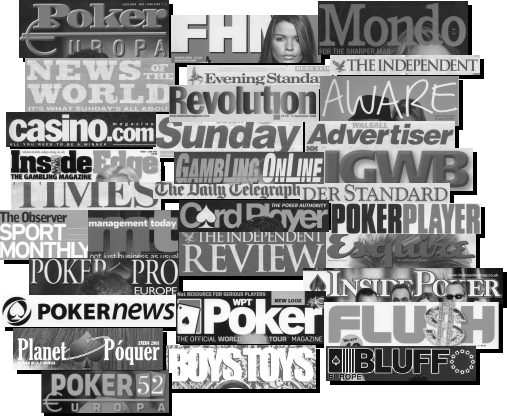 In the past few years The Hendon Mob have become household names within and beyond the exciting world of tournament poker. Their countless TV credits include appearances on:
Late Night Poker Series I-VI, Fox Sports, Jimmy Kimmel Live, Fox News (Breakfast TV Live), London Weekend Television, ITV, BBC TV, The Travel Channel, Challenge TV, Channel 9 News(Australia), Sky Sports, Channel 4 as well as dozens of radio interviews worldwide.
They have been covered in just about every major news and style publication around the globe including major features in: Esquire Magazine, FHM, London Evening Standard, The Sunday Times, The Observer, The Times, The Independent Cardplayer Magazine, Inside Edge, News of The World, Herald Sun, Revolution Magazine, Oho, Osterreich-Chronik, IGWB, Mondo, Loaded, Hendon Times, Walsall Advertiser, Luton on Sunday, Sportsadvisor, The Racing Post Glasgow Herald, Casino Magazine, Poker Europa, Inside Poker, PokerPro Europe, Pokernews Magazine, Pokerplayer Magazine, WPT Poker, Flush, Front Magazine, Planet Poquer, Boys Toys, Bluff Europe and Poker 52 Europe.
Information Licensing Terms: All information contained on this site is proprietary and owned by The Hendon Mob. Please read our Terms of Use and the conditions that apply before using any of the information on an occasional basis. For regular use of any of the information, please contact us regarding our licensing terms.
GPI® is a registered trademark in the United States under Registration No.4635015.