25/07/2006
After last years exercise of playing as many WSOP events as possible I have changed my strategy. Sadly Jesse May's 'Poker Show' isn't on this year but their tag line 'It's a Marathon not a Sprint' is right at the fore front of my mind. I am in my third week but I have only played 6 events and I have already equaled last year's cash tally of three events – and I've had some big shots too.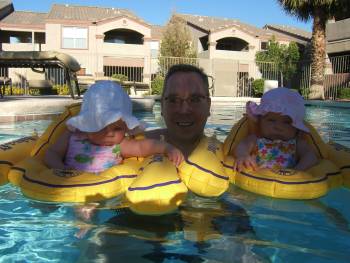 Barny, Ross and I all have condos on Hacienda about a 15 minute drive to the Rio. Ram is in the Bellagio. It's nice to be able to get away from the casino. It's quiet, private (gated) and has two very nice pool areas. We actually took the twins for their first swim the other day. They had the whole pool to themselves and they loved it.
It was no good in the $10k PLO or the $2000 PLH but overnight in the $2500 NLH short handed event I had a very healthy $49,400 in chips with 38 players left. I was in about 8th spot and probably my best real chance to date of a gold bracelet.
Barny knocked on my door at 11.30am to see if I wanted a lift in. Most events start at noon but I wasn't due back until 2pm so I declined. About noon I called our usual taxi company but couldn't get through so I called a different one and was told it would be anything from 10 minutes to 45 minutes. I had plenty of time and planned to get their early so I could go to Starbucks and have a leisurely walk around. Between 12.30 and 1.30 I must have called the taxi company four more times. At 1.50pm I started to panic when they told me that it could be up to another 45 minutes. It was obviously worse because being a short handed event any late arrival would cost me more in lost blinds.
Looking out of the window I saw the gardener outside cutting the communal grass areas. His pick-up was piled high with cuttings. I ran outside, introduced myself, and explained that I had to get to the Rio urgently and that I had been waiting nearly two hours for a taxi. He looked at me rather oddly.
'I'll give you one hundred bucks to take me if you take me right now.' I said. (It's about a $12 cab ride).
'Have you got a gun?' was his reply.
I handed him the $100 and he eventually agreed to take me when he realized I was serious and not about to hijack his truck. He had to get rid of the grass first or it would have blown all over the road which took a couple more minutes. Then it was like a scene from a movie. Straight through red lights, through petrol stations to avoid crossings and the wrong way up one street against the traffic this guy earnt his hundred bucks. He asked about the tournament and managed to get himself onto a further $500 free-roll if I should happen to win the $500,000 first prize. We arrived at the Rio at 2.15pm
When I got to my table it was worse than I could have imagined. One of the six seats was empty with no chip stack and the guy in the 5 seat hadn't shown up yet either (probably called the same taxi firm) so the three players at the table were playing as fast as they possibly could and were stealing our blinds. My 50k stack was already down to 34,000! As I sat down I was dealt AhJh in the big blind and the button raised. I was off balance and I didn't know what to do. I called, missed the flop and passed for his continuation bet. One round later I was all in with the AcJc and looking for the gardener to take me home again. I finished 30th.
One week later when I made day two of the $5000 NLH short handed I wasn't going to make the same mistake. I wasn't in such good shape so I really couldn't afford to be late this time. I went with Barny and was there early enough for a cooked breakfast and plenty of coffee. It didn't really work out and again I finished 30th. The payout clerk pointed out that I was 30th in event number 30 and so I should go and have $30 on number 30. That didn't really work out either.
Yesterday I went better than 30th when I finished 27th in the $5000 NLH. I got to over 100,000 in chips when my Kings held up against Erik Seidel's Queens. Overall I was very happy with the way I played making a tough call with king high on one river and moving all in with pocket threes on a 986 board when I was sure my opponent held two face cards. Eventually I check raised all in with a flush draw and nearly got the nut flush draw to pass – I said 'nearly'. That left me crippled and I nearly recovered until I eventually lost out to a better hand.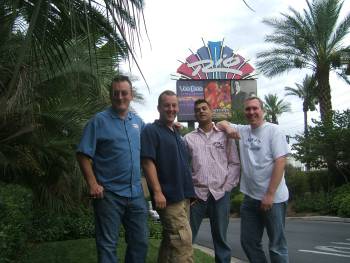 Tonight there are 15 of us off to dinner at Prime in the Bellagio, tomorrow it's Elton John at Caesars Colosseum and the following day it's the Full Tilt Party at Pure nightclub. I won't be playing live again until the main event. I start day three which is by far the most popular choice. Thirtieth last year paid nearly $300,000 – that'll do nicely.
You may have noticed that Pokermob.com has its first competition set up. You can win a 1000 Hendon Mob Poker Chip Set for only ₤1.50. It's a great prize and full details can be found here. Future comps will have some fantastic prizes including seats in live poker tournaments.
Information Licensing Terms: All information contained on this site is proprietary and owned by The Hendon Mob. Please read our Terms of Use and the conditions that apply before using any of the information on an occasional basis. For regular use of any of the information, please contact us regarding our licensing terms.
GPI® is a registered trademark in the United States under Registration No.4635015.