07/02/2007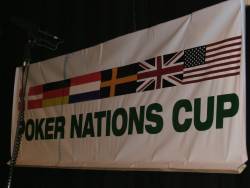 Ram and I went off to Presentable studios in Cardiff last week to play in the Poker Nations Cup. Ram, Dave Ulliott and I were the only players from the victorious Great Britain team last year and helping us defend our title we were joined by the unofficial 5th Mobster, John 'Large' Kabbaj, 'Texas' John Hewston and online player Paul Gardner.
Texas John had arrived with Devilfish is his Jag with its number plate T3XAS. The band tried to buy it from him a few weeks back but even at £25,000 it wasn't for sale.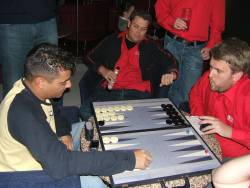 Padraig Parkinson was sadly missed as was the Irish spirit as their team were replaced by Marcel Luske's Dutch six. All the other counties represented remained the same except many players had changed. Team Sweden had completely changed. It was no surprise not to see Ken Lennaard as rumours regarding cheating that were circulating about him a while back were sadly confirmed by many of the Scandinavians. There was no Erik Sagstrom or Ayhan Alsancak to play high stakes Chinese Poker with Ram but the Crazy Horse still managed to find backgammon action at $50,000 a session.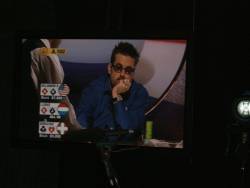 The side action on the heats was still huge and at one point Robert Williamson's wife was cheering loudly and jumping up and down when he won a big pot eliminating an opponent. John Kabbaj was caught laughing as he turned to Dane Mads Andersen saying 'She obviously doesn't realise that pot just cost her husband thirty large in a related side bet.'
Several of the Dutch had found a site online that played Chinese for real money but sadly the only stakes available were very small.
There was also no Jesse May probably because of his Matchroom commitments and Vicky Coren stepped into his place along side Barny in the commentary box. Neil Channing took Vicky's role as the interviewer and both did a little of the presenting.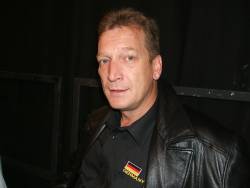 Katja Thater made her name in this event last year and it was a surprise not to see her. Michael Keiner insisted on her inclusion last time. The Steffi Graff look-alike proved a big success, made a name for herself and signed a sponsorship deal with Poker Stars. Unfortunately they have a policy that none of their players can play in events sponsored by other online sites. Katja was picked by Michael this time as well and was even given the go ahead by the Poker Stars German Head of Marketing until the Poker Stars European Head vetoed her threatening to pull her sponsorship deal if she went ahead and played. Considering that there were several players from various online rooms there Poker Stars definitely missed a trick especially as the Poker Nations Cup was largely responsible for putting Katja Thata on the map.
Phillip Marmorstein proved that Germans can have a sense of humour producing sun tan lotion for a sunglass wearing Swede during his heat and he also had a few Aramaesque moments as well including a Groucho Marx mask and a pillow case with eye holes cut out. However it's unlikely that any of that will be shown as Germany has a good market that Party Poker want to exploit and as Germany's Captain Michael Keiner pointed out it is not good for the game and would be a big step back for poker in Germany if shown.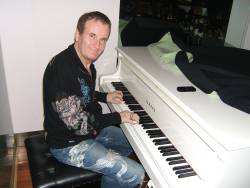 There were no buzzers for the captains this time as they were deemed too tacky and they made it more like a game shoe. So how come the Fish was still captain on team GB then we wanted to know?
Devilfish was sat with a few of us at dinner telling a few stories. Apparently he took his girlfriend to the National Gallery and got kicked out for making a joke about a sculpture that had a rather large penis to an old woman who was standing near by. He's obviously getting kicked out of more sophisticated places in his old age.
Party didn't want to use the words 'online qualifier' and it appeared that all online 'qualifiers' were in fact high rakers except for the American team. They had a 'celebrity' player in Jennifer Tilly as they don't now have any American players.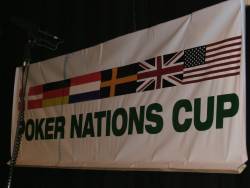 Team GB's 'online player' was Paul Gardner and his girlfriend turned up to watch. She wanted to know why the player that made four aces had won the pot because his opponent had five clubs. The best was when she asked why some of the cards were red and some black. Sadly we couldn't get her to play a little. Paul himself played very well and did himself proud. He was completely unfazed and though a big raker (and player) on Party didn't recognize or know any of the poker players, including Devilfish, Unabomber, Vaswani or Luske! I asked him if he had ever heard of the Mob and he hadn't!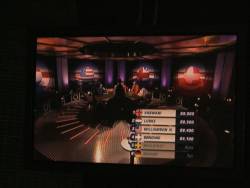 Meanwhile I interrupted a conversation between my wife Claire and the Devilfish. He was recommending to Claire which type of mop to use to clean antique floorboards!
The Poker Nations Cup will be broadcast on Channel 4 in March and as soon as we have the exact dates we'll publish them here.
Information Licensing Terms: All information contained on this site is proprietary and owned by The Hendon Mob. Please read our Terms of Use and the conditions that apply before using any of the information on an occasional basis. For regular use of any of the information, please contact us regarding our licensing terms.
GPI® is a registered trademark in the United States under Registration No.4635015.