21/10/2012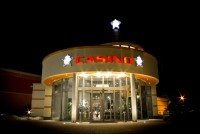 Poker Kings Casino Rozvadov
When we were invited to Kings Casino in Rozvadov we were keen to go. We had never been to play poker in the Czech Republic before and a new Hendon Mob flag was on offer. Barny was currently joint number one English player, along with Simon Trumper, with 17 different country flags for tournament cashes and one more would put him top.
The casino is about 100km from Prague airport, you can also fly into Germany which is actually a little closer if you prefer. We were picked up in the King's Casino mini bus and the drive through countryside was quicker than you may have thought.
Billed as 'Europes Biggest Poker room' the tag doesn't really do it justice. Now I am a little older, and a little grumpier I guess, I like things 'to be right' and the Kings Casino delivers. So many things that players complain about, or ask for, are catered for here.
The action is so diverse. Cash tables from €1/€3 to €2000/€4000 with over a million Euros in play. Tournaments and satellites from €30 to a €1000 main event and a €10,000 high roller.
One thing I noticed is that they don't have is a 'figurehead' in the card room. They don't have a Matt Savage or a Simon Trumper. If do you call the floorman, there are plenty, they are there quickly and I haven't seen a bad ruling.
The dealers rotate frequently and carry their own floats so there is never any time wasted counting and recounting to check floats as often happens in the USA. They also carry plenty of chips and change which speeds things up as does the automatic shuffling machines in the cash games.
One thing that annoys me sometimes is dealer inconsistencies. The dealers here all follow the same procedure with shuffling, cutting, dealing and collecting antes - a sign that they are well trained.
The atmosphere is comfortable, the tables are spaced well, the table lighting bright whilst the casino subdued. The toilets are always spotless, something many places could learn from. Plenty of side tables and enough waitresses they could have their own tournament. I have never seen so many waitresses in one place before and you never have to wait for a drink.
One of the most impressive things is the FREE 24 hour hot and cold buffet for the players. Cold meats and cheeses, various salads, a fruit bar, a constant selection of hot dishes, potatoes, rices, soup, vegetables and all in a separate room with seating for plenty. In the mornings they have a hot breakfast selection too and if you want a la carte they have a separate restaurant. Whilst playing you can order anything to the table and I have never seen anyone be asked to pay, whatever they order.
The rooms are basic and if I had to find one criticism there is no phone in my room so my Orange bill won't be small. I know I should use Skype, and I do sometimes, but I am a little old fashioned ;-)
Vicky Coren would like it here. When you order tea you get your own little white tea pot!
The casino is busy and has all the usual get out of it tables, although the side action is good so we may not have to go there.
They treat us like princes and no doubt this won't be our last visit here.
Information Licensing Terms: All information contained on this site is proprietary and owned by The Hendon Mob. Please read our Terms of Use and the conditions that apply before using any of the information on an occasional basis. For regular use of any of the information, please contact us regarding our licensing terms.
GPI® is a registered trademark in the United States under Registration No.4635015.