04/09/2006
Michael Kaplan is the author of 'Aces and Kings' and he asked me to write the foreword for the European edition of the book. That introduction is published here for you and I have three signed copies of the book to give away as prizes.
On Saturday 9th of September Spurs travel to Man Utd. Post your prediction of the score here to win a signed copy of Michael's book.
Foreword (2005)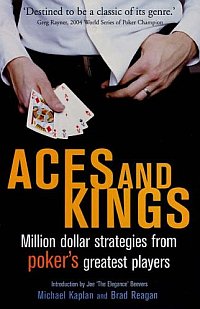 To say that poker has grown in the last few years would be a huge understatement. The amount of people that play poker these days compared with 20 years ago is like the difference between the Atlantic Ocean and a cup of water.
And equally so, the poker scene in the UK has shifted radically. Although it's just been a short few years, it seems like a life time since the late 1990's with all the changes that have happened. The game in England is so different to then when the only place you could really play was in a licensed casino. There were over 20 casinos in London but only three of them spread poker. The largest card room was at the London Victoria Casino; there was the Barracuda just around the corner on Baker Street and the 'Dungeon' in Russell Square, which was uncomfortable, smoky, dark and dingy. That was it about it.
Licensing laws in the UK are particularly antiquated. Unlike casinos in Las Vegas you have to be a member, you have to apply at least 24 hours (until recently it was 48 hours) before you can go into the club and ultimately they could bar you without giving you a reason. In fact, I used to spend a lot of time going out of London to a very good casino in Luton where I played 5 or 6 nights a week. None of these casinos were 24-hour affairs so if you wanted to play at 4 in the morning you were well and truly stuck.
For a new player it wasn't like walking into a Vegas casino which welcomed you and made you feel comfortable and where you would find yourself playing with lots of tourists. Joining a poker game in a London casino could be a little intimidating. The membership requirements didn't help. There were a lot of regulars, they didn't know you, you didn't know them and a new visitor would often feel a little out of place at first. This was just another reason that there were a lot of what we call 'private games' – there were a lot more of them than casinos. People would set up tables with games in their houses or rented flats with the sole purpose of running poker games for profit. The people running the games were making money by taking a rake or table charge but the games were good and ran for long periods because the proprietor would often give his customers credit – something that was illegal for casinos to do – and there was no closing time. Barny, Ross, Ram and I would play in a game in Hendon, North London, every Monday night. Within just a five mile radius of us there were six or seven of these regular games which could run for up to 24, 48 or maybe even 72 hours. The four of us became known as 'The Hendon Mob', a name given to us by the poker community as we often travelled around Europe together playing poker.
The four of us would travel to Dublin, Paris or Amsterdam and play in tournaments being held at casinos which were more relaxed than London's. At one of these festivals, a tournament in Vienna in 1999, a friend of ours, Nic Szeremeta, was talking about a televised poker tournament that he was helping to work on. This was something that no-one had even heard of or tried before. A Cardiff-based production company called Presentable Productions was going to make a show called Late Night Poker using under-the-table cameras to show viewers the players' hole cards. Players was saying 'I don't want to be on that show. Why would I let other people see how I play?' and Presentable were having real trouble getting poker players to appear on it. The four of us, however, liked the sound of it and took part in the first series. We thought people's criticisms and concerns were very naïve and they were later proved to be. The first series final, which I was knocked out of by Dave Ulliott making quad tens, went out at midnight on Channel 4 but still pulled in one-and-a-half million viewers. It was a huge success, became a complete cult show and has now run for six series in the UK as well as being sold to Fox Sports in America and Australian TV. Many players were now asking how they could get on Late Night Poker.
That show really kicked-off the poker revolution. People were talking about it everywhere and were clamouring to get on the show. Presentable, to their credit, were very loyal to the players that had taken part in the first place. All the Hendon Mob made at least one final - I made three.
The show gave us a really good public presence; people were recognising us in bars and on the street. It was at that point we decided that we'd try to get sponsorship, which was something completely unheard of at the time. We wrote 40 or 50 letters to companies and got few replies. The London Evening Standard published a feature in September 2000 about us going to the Poker Million on the Isle of Man and our attempts to get sponsorship. We had two or three people approach us to help but, despite still getting calls right up to the hour before the tournament, nothing materialised. We either paid ourselves in or got people to stake us in. Barny made the final which was televised live on Sky Sports TV.
We set up www.thehendonmob.com website as a contact point through which we picked up a couple of small deals but it was 2003 when we hit the big one. One of the top guys from PrimaPoker.com, an online poker network, was travelling through London and wanted to meet us. Barny and I met him at a train station in London where we came up with the concept of the Prima Poker tour. They'd pay for our entry fees and expenses around the world and we'd promote the site. We agreed on a handshake a half-a-million dollar deal that was later expanded into an annual tour for a million dollars. It set a new benchmark in poker. You see the likes of Tiger Woods carrying endorsements and suddenly poker is catching up. It's helping to move the game away from the stereotype of the smoky backroom into the mainstream. There are huge implications for poker as a business, as a profession and as a lifestyle. Now when we go to a poker event everyone has logos and corporate sponsors on their t-shirts and hats.
The Hendon Mob website is another success story and has become one of the most popular poker portals on the net with as many as 30,000 unique visitors in a day. There are the Hendon Mob offices with full time staff and the world's most comprehensive poker player and results database with over 40,000 poker players, results and bios.
The internet explosion has acted as a catalyst for poker in the real world with a lot of casinos giving up their valued gaming space to the baize. A multitude of quasi-legal private member's clubs have also opened across London offering even more regular poker action. The general consensus was that they would be shutdown almost immediately but the oldest one has now been trading for around 18 months.
Everyone wants to play poker and with the online card rooms anyone can. Underground clubs and private games have all but been replaced by online poker but the game is still growing. It's huge. I love playing poker and I can say that poker is my life. One of the reasons that I love playing in tournaments and at the World Series is because the camaraderie is fantastic. Everyone gets together, has a drink and a party and then we sit down to take money off each other. It's great fun.
The great thing about poker is that it's a completely level playing field. If you want to play football with David Beckham or tennis with Andre Agassi it's going to be incredibly difficult to make that happen. If you want to play poker with Phil Hellmuth, Phil Ivey or the Hendon Mob all you have to do is put the money up. You may not be at the same table but you start with the same chips and using the same cards. You can get royalty sat next to dustmen and film stars facing internet qualifiers from Blackpool. The make-up is unique to poker. In no other game can you play against the best players in the world just by fronting the cash.
Michael brings these accessible poker stars closer still. I first met Michael at the Aviation Club in Paris when he was doing an interview for high class magazine Cigar Aficionado with Dave 'Devilfish' Ulliott. Last year we were doing a poker tournament with a bunch of journalists in New York promoting the Monte Carlo Millions for Prima Poker and Michael had some press copies of another book he'd written. He signed a copy for me but with this book Michael's done me a far greater favour. There have been a lot of times on the poker circuit that I've heard things about different big name players and this book has managed to fill all those important blanks. Getting an insight into the top players covered in these pages should not be underestimated. You can always learn something from the greats. There were even things about Dave Ulliott that I didn't know until I read the book and Dave's a very good friend of mine. I've played with everyone in the book, except Stu Ungar, but next time I'm at the poker table with Phil Ivey or Barry Greenstein there's certain background information that I never knew that will help me.
The following pages trace the game from when Puggy Pearson was playing, which was a time when it was almost acceptable to steal chips from the pot. Back in the 50's if you could fix the deck or flash a card it was just part of the game. There was a big thing that Puggy used to do. If someone made a large all in bet on the river Puggy would push all his chips forward looking like he's going to call the bet. If the guy turns over the winning cards then he'd claim that he'd never made the bet as he hadn't released his hand from the stack. You'd never get away with anything like that these days. Puggy doesn't play as often today but if I end up at a table with him I'll be watching him a lot more now.
Thankfully, someone caught cheating in a poker tournament today will be kicked out and barred. It's a lot safer in 2005 playing in tournaments and casinos, even the quasi-legal clubs have security, rules, managers and cameras. The likes of Doyle Brunson and Amarillo Slim had been held up at gunpoint a number of times and thankfully that darker side of the game has all but disappeared.
Poker is bigger than ever, more players, more places and more money but the reason that people get converted isn't the million dollar prizes but the game itself. I was playing at the Bellagio in Las Vegas in the PPT (Professional Poker Tour) event. Five hundred thousand dollars had been put up in prize money by the organisers and 200 of the world's best players had been invited to compete in front of the TV cameras. We were down to the last two or three tables and on my table were Chip Reese and Doyle Brunson. I'd played with both of them before and they're both extraordinary poker players and really nice guys. People were asking them why they were playing in the tournament because although the first prize was $250,000 the pair of them regularly play for a lot more dollars than that. Their answer? They were playing for the sport.
The players broke for dinner and when we came back Chip was missing. He turned up a couple of minutes late and started talking with Doyle about the 'Big Game' – usually played with $2000/$4000 betting limits. It turns out that Chip had gone to the main poker room because he had heard that the Big Game was in full flow. He played and he won more than the total prize-pool of the tournament. And this was just in the dinner break. He'd won more than half-a-million dollars while we were eating but it didn't affect the way that Chip continued to play at all. He sat there for the next four hours and played absolutely perfect poker when he could have been across the road winning a lot more. The money in the tournament wasn't what really mattered. He was playing because the game had to be played.
Information Licensing Terms: All information contained on this site is proprietary and owned by The Hendon Mob. Please read our Terms of Use and the conditions that apply before using any of the information on an occasional basis. For regular use of any of the information, please contact us regarding our licensing terms.
GPI® is a registered trademark in the United States under Registration No.4635015.