Joe 'The Elegance' Beevers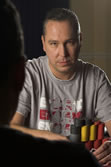 After Joe left school, he joined his father in the family business. In his case, that meant traveling the world as a professional blackjack player!
He went back to University to study Finance and paid his way by dishing out poker lessons to some of his teachers and wealthier classmates. He left with a BA Honours degree and a new trade! It's kept him in fast cars and designer suits ever since.
Joe has gained admiration and respect as a strong and consistent tournament pro. Career highlights include six final placings in eight events at the Paris poker festival. He won the 2002 European championship Omaha event the 2003 Irish Open championship and the 2004 Four Queens championship event. In 2005 he finished 7th in the WPT Championship event collecting $188,000 and went deep in the WSOP Championship collecting $46,000.
Today Joe Beevers is part of The Hendon Mob.
Joe's cool head has helped him achieve an unparalleled record in televised poker events. He made three out of six finals on late Night Poker, impressed a huge TV audience when finishing second in SKY TV's 'Poker Million – The Masters' in 2003 and had yet more success as finalist in the 2004 Victor Cup and runner up in the 2004 World Poker Championship in Dublin.
2007 saw Joe's best year to date. Hand picking about 16 events to play in total Joe managed to cash in nearly half of them winning the GBPT Grand Final in Bristol for £87,000 and in December he finally managed to secure a TV victory winning $1,000,000 in the Poker Million Grand Final which was shown live on SKY TV.
In 2008 Joe became the only British player to make the Great British poker team for the third year in a row. He helped the team regain the Poker Nations Cup which they won previously in 2006.
Have a look at Joe's poker results, pictures and history in his profile in the Mob Database.
Articles by Joe Beevers
Information Licensing Terms: All information contained on this site is proprietary and owned by The Hendon Mob. Please read our Terms of Use and the conditions that apply before using any of the information on an occasional basis. For regular use of any of the information, please contact us regarding our licensing terms.
GPI® is a registered trademark in the United States under Registration No.4635015.