Barny Boatman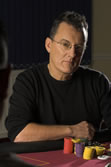 Barny Boatman is the only Mobster without a poker nickname. 'With a name like mine', he reasons 'Who needs one?'
He loves adventure and has always been a traveller, living and working in such disparate places as Barcelona Hong Kong and Sri Lanka. He has had countless jobs from barman to builder from teacher to journalist, and before turning to pro poker he was chief computer programmer for a multi national company. In recent years he has worked as commentator for countless televised poker tournaments including Late Night Poker, The World Heads Up, The Poker Million, Poker Million The Masters, The Victor Cup and 'Celebrity Poker Club'. In 2005 he recorded the first series of 'Barny's Home Games' a popular TV show in which he visits and plays in home poker games around Great Britain.
On the European poker scene Barny is known as much for his infectious good humour as for his tournament successes. He is widely considered to be a tricky, unreadable and daring opponent, best avoided.
Considered to be one of the most talented exponents of No Limit Hold 'em, which he calls 'The Beautiful Game', Barny has figured in countless major finals including the Master Classics, the European Open, The Aussie Millions and the only ever Poker Million. His many recent victories on the world tour include the 2003 Finnish Open Championship.
He burst onto the international poker scene in 1999 when he became Europe's top ranked Seven Card Stud player. He also topped the European Omaha rankings in 2000/2001, and won the European Championship Seven Card Stud event in 2002. In both 2000 and 2001 he was Britain's top finisher in the World Series of Poker. He has a total of fourteen World Series cashes and in 2002 he set a new record by making three World Series finals in a row, an achievement that earned him an award for the outstanding tournament performance of the year.
Click Here to see Barny's profile in the Mob Database.
Articles by Barny Boatman
Information Licensing Terms: All information contained on this site is proprietary and owned by The Hendon Mob. Please read our Terms of Use and the conditions that apply before using any of the information on an occasional basis. For regular use of any of the information, please contact us regarding our licensing terms.
GPI® is a registered trademark in the United States under Registration No.4635015.