Jackie Sinfield
Our September 2001 mobster is Jackie Sinfield.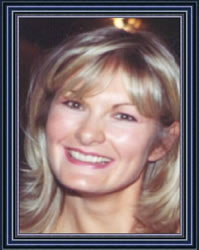 Name:

Jackie Sinfield

Nickname:

City Jacks

Age:

32

Address:

Mill Hill, London

Country:

U.K

How do you know about the Hendon Mob :

Every one knows about The Hendon Mob

Hobbies / Interests :

Travelling, sunbathing, keep fit

Favourite film :

Bridget Jones Diary

Favourite music :

Rock, Pop and Dance

Favourite person :

The Queen

Favourite joke:

Q: What do you call an eskimo with snow in his ears?

A: What ever you like he can't hear you.
Information Licensing Terms: All information contained on this site is proprietary and owned by The Hendon Mob. Please read our Terms of Use and the conditions that apply before using any of the information on an occasional basis. For regular use of any of the information, please contact us regarding our licensing terms.
GPI® is a registered trademark in the United States under Registration No.4635015.