Simon Gentleman
Our October 2001 mobster is Simon Gentleman.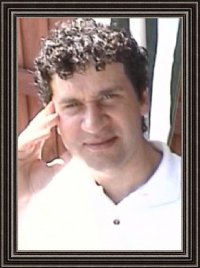 Name:

Simon Gentleman

Nickname:

Haven't earned one yet

Age:

35

Address:

Stevenage Herts

Country:

UK

How do you know about the Hendon Mob :

Esquire Article, But have met u in Luton Casino

Hobbies / Interests :

Football, Film, Books, Philosophy

Favourite film :

The Deerhunter

Favourite music :

Most Stuff

Favourite person :

Barney of course!

Favourite joke:

The apprentice jockey was preparing for his first ever ride and asked the trainer whether he had any chance of winning.
'Are you kidding? I've put a monkey on it and the wife's got a pony on it.'
'Oh - so where am I going to sit?'
Information Licensing Terms: All information contained on this site is proprietary and owned by The Hendon Mob. Please read our Terms of Use and the conditions that apply before using any of the information on an occasional basis. For regular use of any of the information, please contact us regarding our licensing terms.
GPI® is a registered trademark in the United States under Registration No.4635015.