Kasper K Blandford
Our November 2004 mobster is Kasper K Blandford.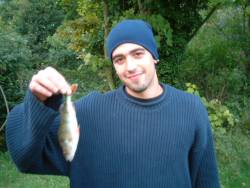 Name:

Kasper K Blandford

Nickname:

'thekman'

Age:

21

Address:

Windsor, Berks

Country:

England

How do you know about the Hendon Mob :

Heard the name around the internet etc.

Hobbies / Interests :

Reading, poker, boxing/exercising etc. etc.

Favourite film :

Catch-22

Favourite music :

Lots, mostly Rock

Favourite person :

Errr.... my mum....

Favourite joke:

What do you call a women with one leg? Ileen

(ha hha ha ha ha ha haa ha ha haa haaa)
Information Licensing Terms: All information contained on this site is proprietary and owned by The Hendon Mob. Please read our Terms of Use and the conditions that apply before using any of the information on an occasional basis. For regular use of any of the information, please contact us regarding our licensing terms.
GPI® is a registered trademark in the United States under Registration No.4635015.