Hiroki Takeuchi
Our November 2002 mobster is Hiroki Takeuchi.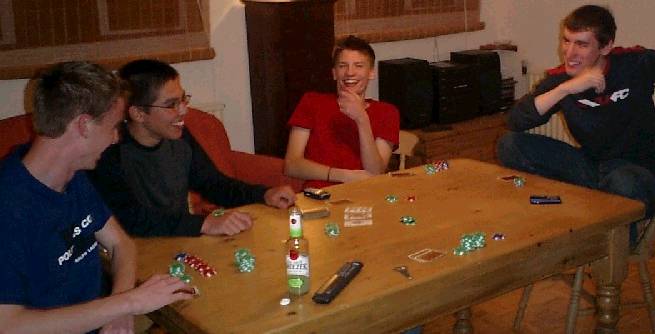 left to right: Pete / Hiroki / Andy / Adz
Name:

Hiroki Takeuchi

Nickname:

Tac

Age:

16

Address:

Swindon, Wilts

Country:

England

How do you know about the Hendon Mob :

Legends

Hobbies / Interests :

Poker, Partying, Computers, Sports and Fine Ladies

Favourite film :

Godfather II

Favourite music :

Rap

Favourite person :

Samuel L Jackson

Favourite joke:

A doctor answers his phone and hears the familiar voice of a colleague on the other end of the line.
'We need a fourth for poker,' said the friend.
'I'll be right over,' whispered the doctor.
As he was putting on his coat, his wife asked, 'Is it serious?'
'Oh yes, quite serious,' said the doctor gravely. 'In fact, there are three doctors there already!'
Information Licensing Terms: All information contained on this site is proprietary and owned by The Hendon Mob. Please read our Terms of Use and the conditions that apply before using any of the information on an occasional basis. For regular use of any of the information, please contact us regarding our licensing terms.
GPI® is a registered trademark in the United States under Registration No.4635015.