Beth, Ella and Madeleine
Our November 2001 mobster is Beth, Ella and Madeleine.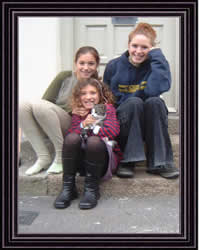 Name:

Beth, Ella and Madeleine

Nickname:

Beth, Elles and Maddy

Age:

12, 8 and 14

Address:

Tavistock, Devon

Country:

England

How do you know about the Hendon Mob :

Sal

Hobbies / Interests :

Horse riding ,surfing, music, clothes, art

Favourite film :

Breakdown Palace, Austin Powers, The Italian job.

Favourite music :

Travis, punk rock

Favourite person :

Kate Evens, Sally Lewis and our Mum

Favourite joke:

Why did the chicken cross the road??????
To get to the other side. Hahahahahaha(not)

Why are cooks bullies?
Cos they whip the cream and beat the eggs!!!

The one about the elephant... have you heard it??
Information Licensing Terms: All information contained on this site is proprietary and owned by The Hendon Mob. Please read our Terms of Use and the conditions that apply before using any of the information on an occasional basis. For regular use of any of the information, please contact us regarding our licensing terms.
GPI® is a registered trademark in the United States under Registration No.4635015.