Phil Wise
Our May 2002 mobster is Phil Wise.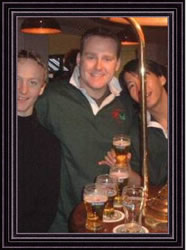 Name:

Phil Wise

Nickname:

The Sheik

Age:

24

Address:

Cricklewood, London

Country:

U.K.

How do you know about the Hendon Mob :

Turf wars against the Cricklewood Posse

Hobbies / Interests :

Poker, Horse Racing, Karting and Paintballing

Favourite film :

The Sting & Godfather Part II

Favourite music :

Fleetwood Mac, The Chain

Favourite person :

My Doris

Favourite joke:

A guy walks in on three of his friends, and much to his surprise, he sees that they are playing poker with a German Sheppard dog!
"WOW!" the guy says. "A dog playing poker! UNREAL!"
So one of his friends turns around and whispers: "It's not all that impressive, really. Every time he gets a good hand he wags his tail!"
Information Licensing Terms: All information contained on this site is proprietary and owned by The Hendon Mob. Please read our Terms of Use and the conditions that apply before using any of the information on an occasional basis. For regular use of any of the information, please contact us regarding our licensing terms.
GPI® is a registered trademark in the United States under Registration No.4635015.