Wayne To
Our April 2003 mobster is Wayne To.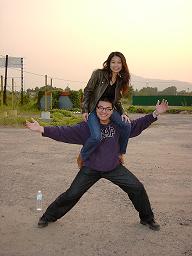 Name:

Wayne To

Nickname:

'Waz'

Age:

25

Address:

Southampton

Country:

England

How do you know about the Hendon Mob :

Late Night Poker, the website and Bugsy's poker room

Hobbies / Interests :

Gambling, Gambling and er Gambling!

Favourite film :

Clerks by Kevin Smith

Favourite music :

Rock

Favourite person :

My girlfriend - Sonia

Favourite joke:

Quasimodo and Esmerelda are sitting at home together. Quasimodo is looking rather depressed and worried, Esmerelda asks him " whats's the matter darling?" Quasimodo answers in a really sad voice, "I'm sick and tired of being the ugliest bloke on this planet" Esmerelda replys "Honey, don't feel bad, I'm sure there are men in this world uglier than you. Why don't you go upstairs and ask the magic mirror to find out once and for all" Quasimodo picks himself up and drags himself upstairs to ask the magic mirror who the ugliest person on this planet is, almost certain it will be him. Some time later he tramples down the stairs with a puzzled look on his face. "Well?" Esmerelda asks, " What did the mirror say?".

To this Quasimodo asks, "Who the F*@K is Jimmy White?"
Information Licensing Terms: All information contained on this site is proprietary and owned by The Hendon Mob. Please read our Terms of Use and the conditions that apply before using any of the information on an occasional basis. For regular use of any of the information, please contact us regarding our licensing terms.
GPI® is a registered trademark in the United States under Registration No.4635015.